An eCommerce PHP script is an arrangement of PHP programming language. This script is designed in a way that will help a website conduct eCommerce-related functions such as online order process, shopping cart, payment procedures, etc.
Usually, eCommerce PHP scripts handle the database to online store information including product details, consumer data, and so on.
5 best eCommerce PHP script
To create a unique & powerful e-commerce website it's essential to use PHP script. The importance of an eCommerce PHP script signifies its ability to provide a simple and well-planned way to run a business online.
In this blog, I have elaborated on the 5 eCommerce PHP scripts. These eCommerce scripts offer a variety of unique homepages. Each of these eCommerce platforms has unique features and functions.
Read the whole blog before going to another tab and decide which one goes with your online store. Keep diving.
Zaika – Laravel eCommerce PHP script
Zaika is our top choice for PHP eCommerce script which is developed by the Laravel framework. It's a fast and secure eCommerce platform. This PHP script has a powerful admin panel that has complete control over the website. Integrates multiple payment gateways with the currency support system. It's easy to set up.
It's a convenient eCommerce shopping cart software.
The security system has used cross-site request forgery (CSRF) prevention, cross-site scripting (XSS) prevention, password hashing, and avoiding SQL injection.
Its backend framework builds on Laravel 8x PHP Composer. And frontend framework built on Bootstrap 4x requires PHP 7.4 and supports MySQL and Mysqli. It required MySQL version 5.7.
This eCommerce script is well compatible with Google Chrome, Mozilla firefox, opera, safari, and Microsoft Edge, and also device friendly.
Focusing points
Get a variety of 5 homepage
Product variant module added
SEO optimization & add og meta
Store management system
15+ payment gateway also had a manual payment option
Order management & processing system
100% secured
Drag-drop website builder
Advance modules (tax, shipping, campaign, coupon)
Inventory module
Mobile app available
Easily customizable
CartPro – Laravel eCommerce script
Cartpro is a Laravel eCommerce script. Easy to set up. The system requires PHP 7.3.0 version. BCMath PHP extension.
Focusing points
Admin dashboard
User management
Multi-store management
Options, attributes
Discounts, coupons
Unlimited colors
Drag and drop menu builder
Shipping modules
Responsive design
Auto update
Newsletter signup
Shopmart – Laravel eCommerce PHP script
Shopmart Laravel eCommerce PHP script is a convenient way for large to small eCommerce businesses. This script is secured, reliable, easy to use, and customizable.
It helps consumers to find the goods they are searching for. It has a variety of functions and used advanced technologies. It also offers a mobile app that helps customers to purchase products.
Focusing points
eCommerce shopping cart features
Multiple store management
Marketing tools added
20+ payment gateway
Unlimited user account
Advance inventory module
Product variant module
Custom attribute module
Autocomplete search suggestion
Related product suggestions
Discount & Coupon
Support desk
Blog manage
Custom CSS/JS
Theme color change
Organis – eCommerce PHP script
For multivendor organic food and grocery, Organis is our best choice. It has all the basic and advanced features of an eCommerce platform. This eCommerce script comes with 4 home page variants.
Focusing points
Support RTL
4+ payment gateway
Product filter
Google Analytics
Easily customization
Newsletter signup
Admin dashboard
Grenmart – Laravel eCommerce PHP script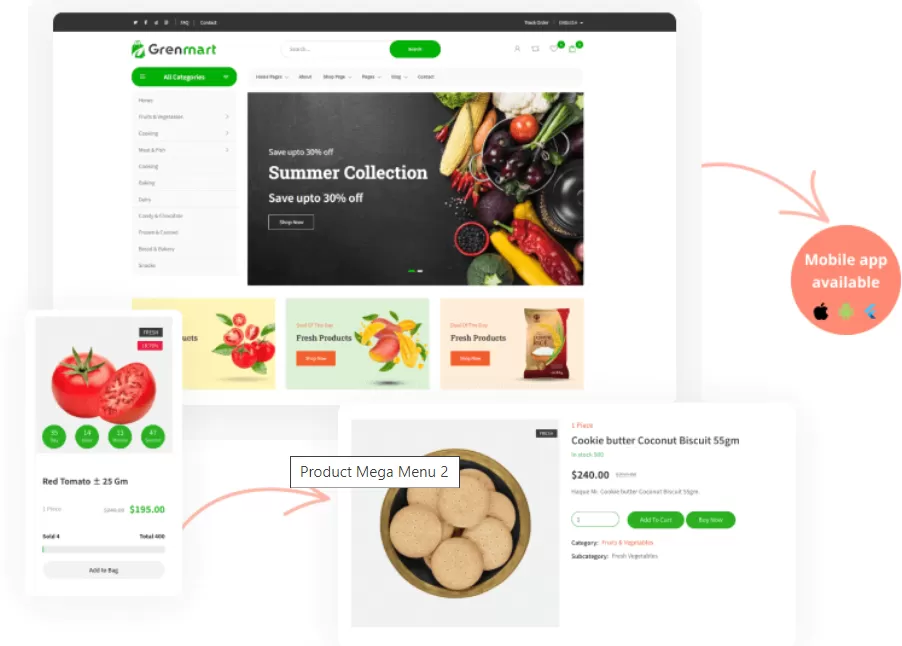 Grenmart is an organic and grocery laravel eCommerce PHP script. Grenmart was designed with the PHP eCommerce framework. Well-fitted for small, medium, and large eCommerce websites. It has all the required features that every eCommerce website needs.
Its flutter mobile app is also available.
Focusing points
Drag-drop website builder
50+ pre-made page builder widgets
20+ payment gateways
Customer wishlist, eCommerce shopping cart
Product Comparison
Product variant
Suggests related product
Quick social media sharing
Autocomplete search system
Discount, coupon, campaign
Newsletter
Email notification
700+ google fonts
SEO optimization options
Wrapping up – eCommerce PHP script
Most often startup business owners use a free eCommerce PHP script. Well, the free version has limitations. Not all advanced features are available on the free one.
The earlier mentioned scripts all are paid with advanced features. Choose the one which best fits your eCommerce store.