Ecommerce businesses are blooming after covid-19. People prefer to purchase online instead of going to physical stores.
Building an eCommerce website requires functionality, design, features, etc. To build an outstanding website you had to include a set of features in your website.
As you are new, you might ask which features I need to include.
In this blog, I have described the 8 key features of an eCommerce website that helps you build an eCommerce website with advanced technology and functionality.
Alongside I have added the purpose of an eCommerce website. Read the whole blog before you take an action for building an eCommerce website.
Purpose of an eCommerce website
The purpose of an eCommerce website isn't only to sell products. Most of us think eCommerce businesses only sell products. Selling products isn't only the purpose of an eCommerce website. An eCommerce website creates a brand's identity.
With the boosting of technology, businesses are modifying into new technologies. The main purpose behind this modification is to make our shopping experience easy and secure.
Website visibility
To increase sales the first step is to catch the customer's attention. An online store helps to create your website visibility. Opening an eCommerce website helps your consumers to outreach you, and know about your products, and offers.
Brand awareness
Brand awareness is one of the primary purposes of an eCommerce store. An eCommerce website creates brand awareness. When you share your goal, clarity, and your purpose of business, customers trust you. This is what brand awareness makes.
Constantly sell
The eCommerce store serves 24/7. There's no fixed time for selling. No period, weekend, event, or global boundary, can't stop an eCommerce store from selling.
Serve customers globally
Ecommerce stores don't sell for any specific location. Now, most eCommerce sites sell products globally. This means the whole world can be your probable consumers.
Expand your business to new audiences
Using cookies helps you to reach your new audiences. You can collect customer data. The use of online marketing tools helps you in this purpose. 
You might also be interested in 5+ best website builders for small businesses.
8 key features of an eCommerce website
Considering many features of an eCommerce website design I have divided the features into 8 sections. Each section has its features.
Basic features of an eCommerce website design
The basic features of an eCommerce website are those which are essential. An online store must have these features.
User-friendly navigation
The must-have features of an eCommerce website are user-friendly navigation. It brings your customers back to your website and also attracts more new customers. It helps them to find new products according to categories. Design your website framework comprehensively and keep page titles simple.
Categorize your website products in the main menu.
Website design
Make sure your website design looks engaging. When a customer browses your website he/she will decide if they are gonna stay on your website or not, it depends on your website design. No compromise while designing a website. Make your website design unique from others.
Mobile friendly
70% of your customers are on mobile. A mobile-friendly website boosts your website traffic and increases sales. Reportedly mobile devices are used on 56% of online purchases. Now you know why your online store should be mobile-friendly.  
Keep the design simple. Add CTA (call to action) button for easy clicks.
Now many eCommerce website builders offer to build a mobile-friendly website. 
Browse compatibility
Your eCommerce website should be compatible with all browsers. Don't make the mistake of building your eCommerce website only targeting Google Chrome. People still use opera, Microsoft edge, safari, bing, and yahoo.
You never know from which browser your sales may increase.
Breadcrumb navigation
In an eCommerce website, development breadcrumb navigation shows a user's location on the website. Generally, you can find it with a large number of product categories.
Security
While running an eCommerce store security is the key factor. Because every single person is concerned about security and their information. The issue of security comes especially when they make online transactions. Customers need to put in their credit cards to make payments.
Certify your website with an SSL (secure sockets layer) certificate. Ensure your customer's information. This is how your customers feel secure and it builds trust.
Payment gateway
Multiple payment gateways are mandatory for any eCommerce website. Many often shopping cart abandonment rate becomes a point at issue. Offer your consumers multiple payment options.
In addition to debit cards and credit cards offer them other payment options like
PayPal
Stripe
Razorpay
Paytm
Shipping option
Shipping is an important issue for any eCommerce website. Consumers will find various shipping options. Offer them the lowest shipping option.
Website loading time
In a survey report, it was revealed that website loading time is one of the main factors to purchase online. People don't have much time to wait for loading a website. If your website takes much time to load people leave the site. Which increases your bounce rate.
The chance of losing your potential customers is if your website loading takes more than 10 seconds. Also, website speed impacts your ranking.
Chatbot/ Live Chat
Chatbot/ live chat is an effective and suitable eCommerce feature. Integrating a live chat service helps you to understand your user's performance, understanding your visitor's insights.
Live support builds trust in your visitors, increases visitors, and encourages them to purchase.
Return policy
A return policy or money-back guarantee is a must for any eCommerce website. It creates customers attractions and builds trust. When you have a clear and compelling return policy people will buy with pleasure. Because they know they can get back their money if something goes wrong.
Offers
Who doesn't like to get any offers like discounts, or coupons? People love to save money. Apart from that, it's an efficient marketing feature. Offer your customers discounts for their first purchase. Or offer them buy one get one. Add coupons for discounts.
Homepage features of an eCommerce website design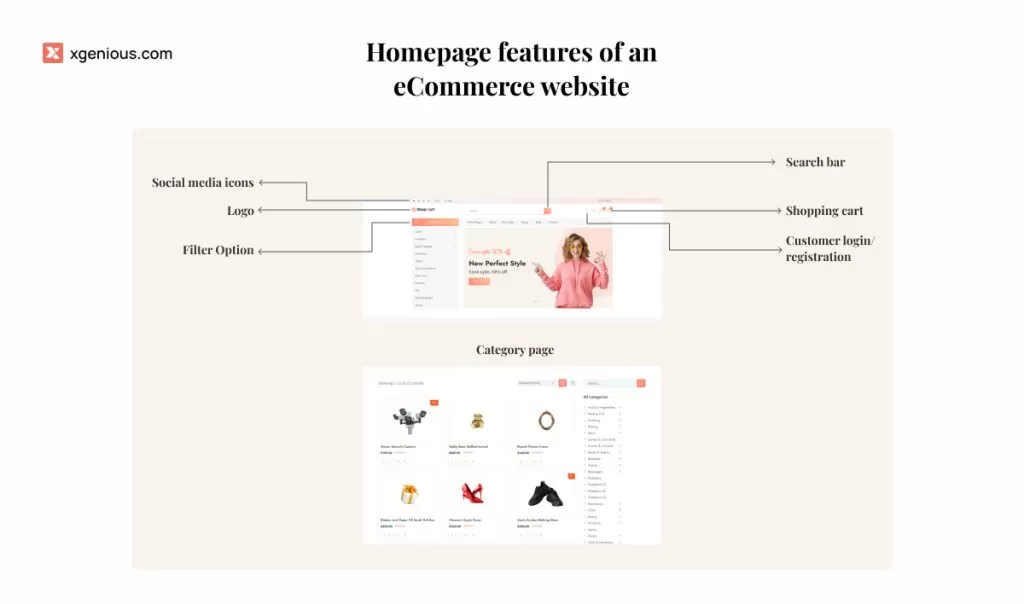 The homepage is the front page of your website. It needs to be well organized and well looked at so that customers should find what they are looking for. While designing the homepage include all the necessary features of an eCommerce website.
Customer login/ registration
Customer login/ registration is a required feature of an eCommerce website design. With a personal user account with their details and order history, customers get back to the website to purchase again.
Most eCommerce website makes this mistake by not adding an option for creating a user account. Of that, they lose potential customers.
Logo
Your logo briefly describes your business. Put your business logo at the top of your website. Your business logo differentiates you from your opponent.
Shopping cart
In the shopping cart customers add products, take action for checkout, and bought the product. A shopping cart is an important feature of an eCommerce website. A shopping cart is usually placed at the top right corner of a website.
Search bar
A search bar is one of the advanced features of an eCommerce website. Most eCommerce websites don't include this feature. The search bar helps a customer find products. Most often customers use the search bar for
What they are looking for
If featuring page doesn't show what they are looking for
Meet customers expectation
Place a search bar at the top of your website.
Category page
The category page is important for any eCommerce website. The category page helps to improve google rankings. Using particular keywords helps to find customers what they are looking for. Category page includes
Category name
Number of items found in a category
Social media icons
Sharing social media platforms on your website gives a chance for your visitors to know more about your business. Also, your visitors stay connected with your social media platforms.
Company information
Most eCommerce website makes the mistake that they don't add any information about their business. Putting company information on your website creates a strong bond with your customers.
Newsletter campaign
Newsletter sign-up is a modern feature of an eCommerce website. By signing up newsletter campaign your current visitors stay up to date with new products and offers. You can also use this feature for marketing purposes.
Customer care
A customer care option was added at the footer of the website. It includes
Contact us
FAQ
Exchange or return
Shipping details
Customer account page features of an eCommerce website design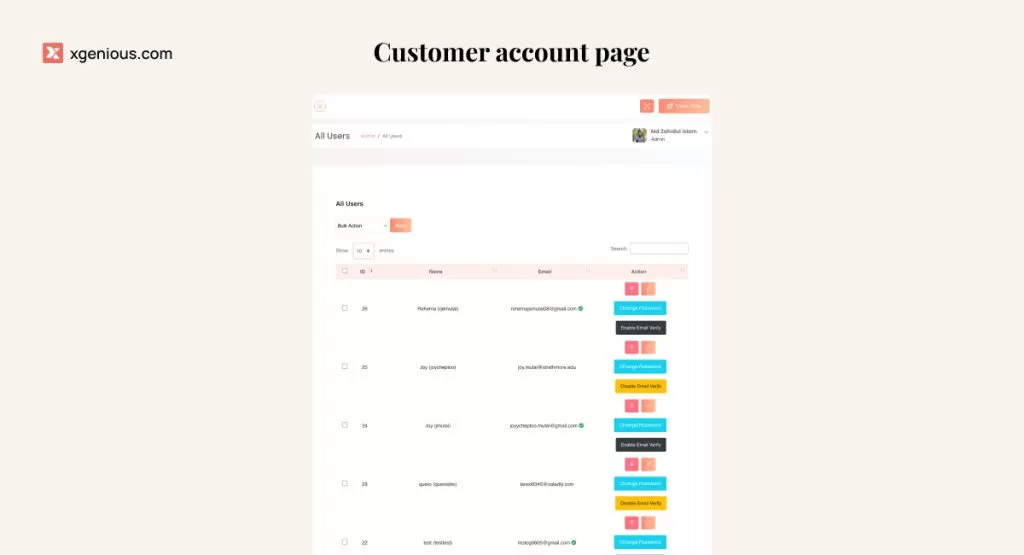 Customer account page features are very important for any eCommerce website. It builds trust and saves the data of the customers. Most ofter eCommerce owners don't pay attention to the customer account page. It's a critical mistake they do. Customers are now demanding. Meet customer demand.
Order history
Order history is one of the compulsory fields on the customer account page. Customers visit their accounts to see their order lists, ordered items, quantity, etc. Points featured in this area are
Product name
Quantity of products
Ordered date
Payment and shipping information
Order tracking
Product price
Payment method
Allow your consumers to review and handle their payment method whenever they make a purchase. This increases customer loyalty and reduces the customer turnover rate from your website.
Review
Nowadays people buy goods when they get a good review. So it's important to allow your customer to write a review. Which encourages other visitors to purchase products from your website.
Return
Running an eCommerce store isn't easy as it seems. Always get ready for return and exchange. Sometimes low quality, incorrect product size, or color difference leads a customer to return or exchange the product. Offer a clear and concise return policy to the customer account page.
You might think if any customer returns any product it may affect your business reputation. No, it's not going to affect your business. Rather than you can gain customer's trust.
Customer wishlist
A customer wishlist is an advanced feature of an eCommerce website. It's a particular area for each customer. A wishlist is for those customers who aren't ready to buy products instantly. They add the products to their cart to buy later.
Settings
The settings option is important for the customer page because sometimes customers want to change their details like address, contact info, password, etc. It's a well-thought idea to add this feature.
The product page features of an eCommerce website design
The product page displays your products. Which requires special attention.
Product Title
Product titles grab the attention of a visitor. It briefly explains what your product is. You know who your targeted consumers are. Considering this keep your product title clear and notable.
High-quality images
Providing high-quality images attracts your visitors to take move on to buy the product. Add 4/5 images of each product with the zoom function.
Price
Product price is a chief feature of an eCommerce website. It helps buyers to decide whether they are going to buy the product or not. Mention discounts or offers with the price. It inspires customers to make a purchase.
Product Compare button
The comparison button allows customers to find the best product among many similar products. It's one of the amazing features of an eCommerce website. Comparison products help to find out a product features, quality, price comparison, and so on. Also, it reduces the bounce rate.
Product Description
Product Description is an important section of any eCommerce website. Description is about
what is your product is
pros and cons
specifications
size, materials
why you should buy this product
Moreover, product description helps your website to rank on search engines. Ensure that your product description should be concise and informative.
Product filter and sorting
Product filtering and sorting option are beneficial for any eCommerce website. It allows purchasers to identify the features of a good. Filtering allows finding a product in the manner of size, color, price, and all.
Recommendations
Product recommendations or suggestions suggest customer-related items on the product page. Product recommendation feature drive customers to take action. You can use this feature on your eCommerce website. For example – "you may also like", "related products", "people also buy", etc.
Social sharing icons
Allow your customers to share your product on social media. Add powerful social sharing icons like Facebook, Instagram, Pinterest, and Twitter. This social sharing works like social media marketing.
Shopping cart and checkout features
The shopping cart page is the place where customers add products to buy and other procedures.
Customer details
The customer details page sections cover the area of
Customers' first and last names
Email address
Customers address
City
Country
Contact details
Cart Details
Customers check out every single detail before purchasing a product. Cart details include
Product Title
Quantity
Color
Product price
Product image
Coupons
Coupons allow customers to buy their favorite products at a less price. If you offer a coupon code add a field for adding a coupon before the customer checkout. If the customer finds out about the coupon after checkout they might cancel the order and will never get back to the website.
Payment method
At the time of payment provide a concise guide to your customers. If you use a payment method that transfers to a third-party website, tell your customers for keeping trust.
Add or remove a product from the cart
This function allows your customers to add or remove products from the cart. This upgrades the user experience and fastens the checkout process.
Backend features of an eCommerce website
Back-end features control the overall of an eCommerce website. This section stays hidden from visitors. The success of an eCommerce website depends on back-ends.
Dashboard
The dashboard is the outline of your eCommerce metrics. It allows you to view eCommerce metrics by showing the main points. From admin panel dashboard shows you the last order lists, customers lists, most selling items, new customers, etc.
Order management
Order management is one of the crucial tasks of an eCommerce website. When a customer order a product your job doesn't finish at that point. You need to keep track of order status, edit order details, etc. All these tasks were done at the back end.
Customer management
In this section, you need to about your customer details, their inquiry, their data, shipping address, etc. Customer management also allows you to build communication with your customers.
Shipment management
The back-end feature handles the order shipment process. An eCommerce website has a lot of shipment processing. All these procedures are handled from the back end.
Store management
Product categories, descriptions, colors, sizes, etc easily customizable from the back end.
SEO
Ecommerce businesses need SEO. SEO helps an eCommerce website for google ranking. The basic features of eCommerce SEO depend on meta descriptions, titles, categories, URLs, etc. All these are controlled from the back end.
Invoice and payment
Payment and invoice procedures manage from the back end. An eCommerce website should offer easy and multiple payment methods.
Contact page features
The contact page is where customers can contact you when they need it. Providing contact information customers trust obtains. That's why providing enough contact info is important.
About us
About us is the feature where eCommerce websites put information about their business. Their business goal, their period in the business, etc.
Email address
Providing an email address allows your customers to contact you directly for any support they needed.
Opening hours
Opening hours are a supplementary feature of an eCommerce feature. Informing your customers about your business hours when they can call you or when you can get back to them.
Phone
Phone number lets your customers contact you for any emergency.
Zaika, a Laravel eCommerce platform.
Blog page features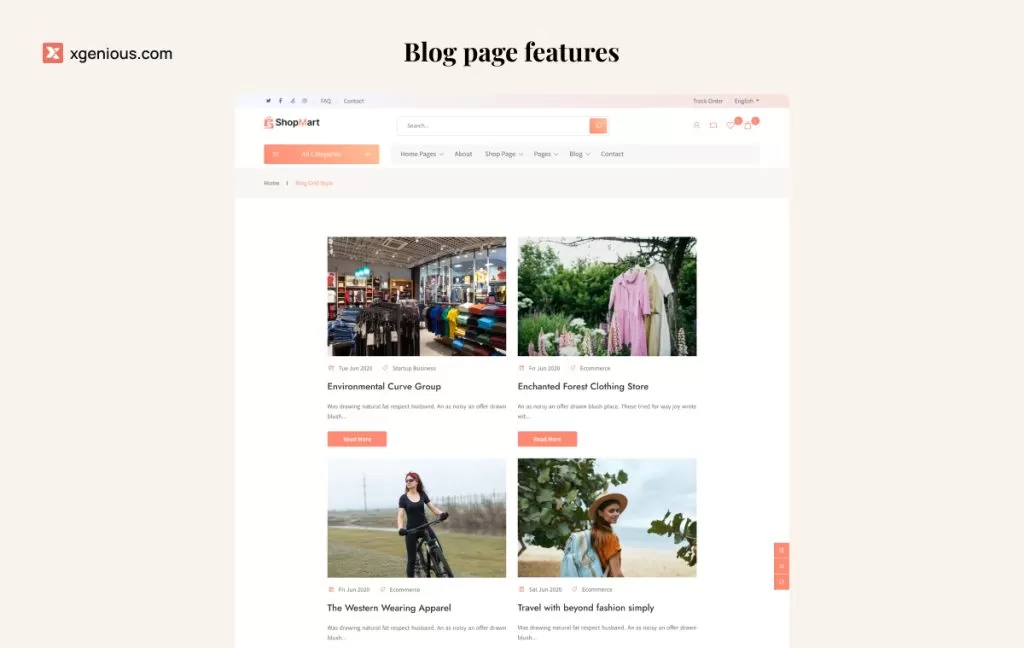 Many eCommerce websites don't feature any blog posts on their website. Blog helps to stay connected with your potential visitors. It allows you to tell your audience about your business, create brand awareness, promote your business, and so on.
Recent blog posts
Recent blog posts help visitors to know which of your product is now on trend. One of the best ways to showcase recent blog posts is to place the posts in the section of the blog sidebar near blog categories with tags. You can use this blog for marketing your products.
Blog category and tag
The blog category option helps to find blogs according to users' choices. It improves user experience. Tags are used to trace particular products.
Add a social sharing button
Social sharing helps to increase the audience of your website. Allow your users to share posts on social media platforms.
Final words of key features of an eCommerce website
Finally, we have reached the end of our blog. Day by day eCommerce sectors is developing. Adding more features boosts your sales.
The success of your eCommerce website depends on how much you have to keep updating your website with new features and functions.
People's expectation doesn't end. It's not always possible to fulfill all demands. To survive in the competitive business it's necessary to add these features to your eCommerce website.
Read our blog about the best content management system.