A crowdfunding script is a software application installed on any website within a short time.
What is a PHP crowdfunding script?
PHP crowdfunding script is fundamentally in need of people who want to raise money for charity, non-profit, investor details, etc.
PHP crowdfunding is for professional fundraising scripts, web-based crowdfunding, entrepreneurs, non-profit organizations, etc.
A crowdfunding script helps fundraisers raise funds from a large group of people. The script emerges into a crowdfunding platform with its features and functions.
This program track how much money investors have invested, progress report of the crowdfunding campaign, keep in touch with donators, etc.
These days crowdfunding is one of the trending ways when it comes to donations or any small or large investment.
Why crowdfunding script PHP is best?
Business tycoons use crowdfunding scripts because it's a cost-effective, easy-to-use, and fast way to build a crowdfunding platform. A script is more cost-effective than a white-label solution.
A crowdfunding script is best for
no technical skills required
non-profit crowdfunding website
donation crowdfunding website
crowdfunding software open source
customizable theme
add new features
low budget project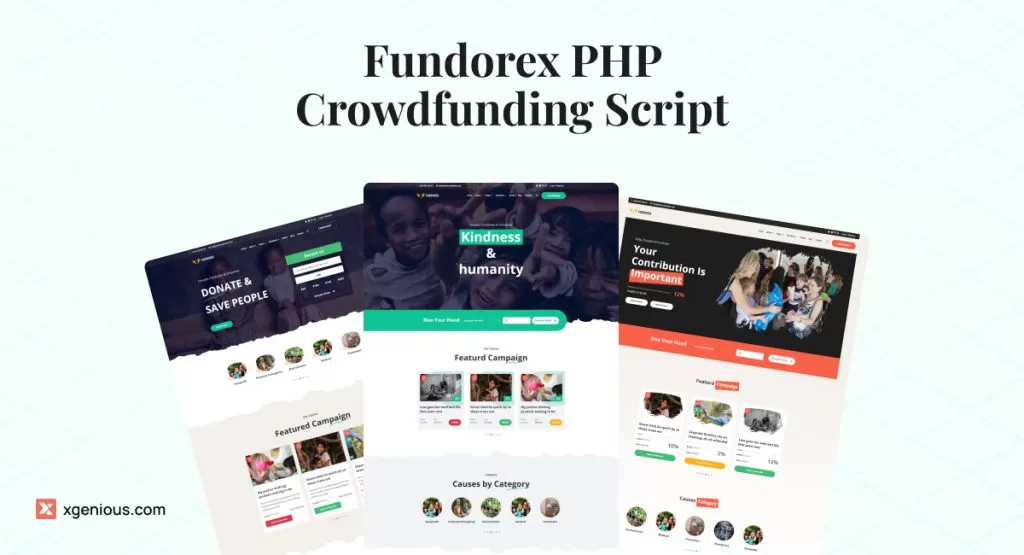 5 best PHP crowdfunding scripts 2022
Fundorex
Fundorex is the best PHP crowdfunding script with 6 home page variants. This PHP script allows you to raise funds for donations, events, non-profits, job postings, etc.
Fundorex allows the creation of a crowdfunding platform in the easiest way ever. The best crowdfunding script is on the market now.
Compatible with devices like desktop, laptop, mobile and major browsers ( google chrome, firefox, edge ).
PHP crowdfunding scripts offer more than multiple home page variants with pre-made crowdfunding clone scripts and high-quality flexible code sources and android app development services.
The price plan for this PHP script is $49. For lifetime use.
Features of fundorex PHP crowdfunding script
From the admin panel, the admin can control the website and campaigns
Accept donations from Paypal, Paytm, Razorpay, Stripe, Paystack, Flutterwave Rave/ Mollie/ Manual Payment
Best for donation, event crowdfunding, a non-profit crowdfunding
Share campaign on social media platforms
Drag and drop menu builder, form builder, widget builder
950+ google fonts included
Customized theme
One-time purchase and lifetime use
Future updates
Android app
Fully translate ready
Powerful admin dashboard
Page slug and name change
Newsletter mail send
Sitemap generator
Facebook and google login
Fundorex crowdfunding platform nulled
Reasons why you should not use nulled platform for your crowdfunding project.
nulled scripts and themes are illegal
no privacy and security
no update
malware attack risks
illegal copyrighting issue
no support and documentation
negative SEO effect
Additional features
Server requirement
Backend Framework: Built on Laravel 8x PHP Composer
Frontend Framework: Built on Bootstrap 4x
Requires PHP 7.4
Supports MySQL, and Mysqli.
Security
Cross-Site Request Forgery (CSRF) Prevention
Cross-Site Scripting (XSS) Prevention
Password Hashing
Avoiding SQL Injection
Kickstarter
The crowdfunding platform Kickstarter is for creative projects. Kickstarter uses an all-or-nothing funding system. If your project doesn't reach its target no funding is exchanged.
Features
If the campaign is successful 5% cost fee from funding
3-5% processing fee from each pledge campaign
Best for creative projects like arts, films, design, and technology.
GetFund
GetFund is another best crowdfunding PHP script. You can collect funds for charity, donation, and other purposes. Also, collect details of your donators, and track your campaigns.
The price plan starts from $49. The extended plan costs $295.
Features
Easily create a fundraising campaign
Receive donations through Paypal, stripe, and direct bank transfer
Social sharing
Payment tracking
Fundme
Fundme crowdfunding platform has a strong admin panel where you can add multiple volunteers. The volunteers can create a campaign individually.
Pricing for entry-level is $41. For an extended license, $205 is required.
Features
Create an unlimited number of campaigns
Advanced dashboard
Edit details of campaigns like target amount, campaign status, and total funds raised
Social media sharing option
Fundly
Fundly crowdfunding PHP script helps you to build an online crowdfunding platform. You can raise money for personal fundraising and non-profit fundraising.
The regular price is $46. For an extended license, $225 will be charged.
Features
User-friendly
Accepts two payment gateways ( PayPal and stripe )
Share campaigns on social media
Manage campaigns, user details, etc
Final thoughts
PHP crowdfunding script is gonna be the best way for your upcoming crowdfunding project. If you want to create your crowdfunding campaign without any technical knowledge and hassle then the Fundorex PHP crowdfunding script is the best platform for you.