A landing page website is a single-page website. A landing page is designed for a particular niche that targets a particular audience. Most businesses use a Content Management System (CMS) to make websites.
What is a landing page?
A landing page is also known as a single-page website. Which refers that there will be only one page. No other page will add here like any other website.
For example, when we visit a website we visit other pages like blogs, about us, services, products, etc. When we click the blog page link that website takes us to their blog page. But on the landing page, it will come down function to focus.
Suppose a website is like a gadget store. Where you will find different sections. Like mobiles, headphones, laptops, etc.
On the other hand, a landing page website is for a single product. Like an app, or software.
The purpose of a CMS landing page website is to turn visitors into leads. These types of a website typically provide services to their visitors in exchange for their information.
If I say more specifically, you are selling software. If your visitors want to buy your software they need to provide their personal information like email, business types, etc.
A landing page website is created for only a single purpose of leading a visitor to the consumer ( signup, buy, subscribe, download ).
Landing pages give people fewer options rather than other websites. Because if you give more options to your visitors it will be hard for them to take the next step. This is how you can lose your visitors and leads.
Difference between multi-page website and landing page website
Most people often get confused between landing page websites and multi-page website. Here are the difference discussed below:
Links
A homepage contains a lot of links like social media links, blog links, navigation menu links, etc, which diverts a visitor to browse another page. But a landing page doesn't contain any other links. They often contain links to subscribe, buy, download, and sign up.
Generate sales
A homepage generates traffic rather than a call to action. Usually, a visitor visits the website and then visits another page. A landing page is customized for CTA (call to action). Visitors are ready to buy products. Which leads visitors to consumers.
Traffic source
Homepages generate traffic from many sources like social media, blog posts, etc. Landing page traffic comes through ads, and click rate.
Navigation menu
A landing page website only has one purpose. For that no navigation menu is available. Besides homepage contains a navigation menu like blogs, services, products, contact us, etc.
Benefits of landing page website
Obviously, a CMS landing page website has a lot of benefits. A landing page targets a specific audience for a temporary period of time and you can fulfill your goal. Landing pages are important for marketing strategy.
Convert traffic to leads
A landing page converts its traffic to leads. A landing page with a high conversion rate merely serves as a gateway to more effectively direct visitors down the sales funnel. People find your CTA on the landing page right away rather than stumbling upon it somewhere in your right rail or on your homepage, and they proceed to subscribe, sign up, buy, or join.
Increase brand awareness and impressions
There's a saying that " first impression lasts long". A well-sophisticated landing page attracts its audience and drives their attention to turn into leads by providing valuable information. A landing page increases brand awareness.
The interface of a landing page should not look dull or boring. Put yourself as a visitor. You will not stay on a website much time if you don't like the interface of the website. That is why an attractive interface is very important. Which creates a good impression and increases your brand awareness.
Add content to your offer
One of the significant benefits of a landing page is to add context to your offer. Add context means adding some extra information that helps a visitor to know more about the product or service. This is how audiences change their mind to call to action.
Testable
To experiment with different designs and see which visuals and copy perform best with your target audience a landing page is the best chance. Besides, testing out a new landing page is often less risky than making major design changes to your entire blog or website framework.
Grow email subscriber list
A landing page grows your email subscriber list. When a visitor subscribes to your product or wants to know more about your content they had to provide their email. In exchange for an email, they get the information. This is how you can divide the list of your potential customer. Which will further help you to send them an email about your offers, with added stuff.
Visible insights into your target audience
Another significant benefit of a landing page is visible insights into your target audience. When you create multiple landing pages with offers you can detect which concept or content transforms best.
This is how you can make use of your collected data to generate more selected and customized audiences. Which will help you know which content your audience likes more. Also in which way is your traffic generated? Like, google ads or social media ads. So that further, you don't need resources on how you will generate traffic.
This will help your marketing team to improve its strategy. Developing content and engaging with your audience through the networks they are using.
Types of landing page
Lead generation landing page
With landing page CMS you can build a lead generation website. This type of website is mainly built for collecting data.
Lead generation websites mainly use landing page CMS to collect information from their targeted audiences. So that they can further use this information for generating leads.
Click-through landing page
CTA buttons are the main focus of the landing page. CTA-focused landing pages mainly focused on selling products. Like software, app download, and e-commerce.
Online course registration
The online course industry must have its own landing page. By using the landing page you can invite your students to enroll in new courses, and classes. Also, this is how you can gather data about your students.
So that further, you can contact your students about your new courses, offers, etc.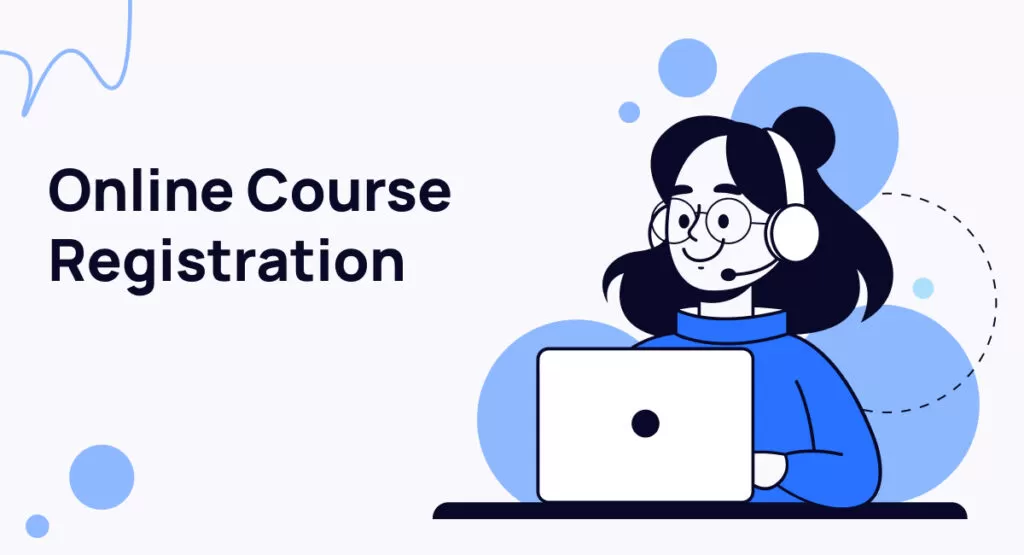 Event Registration
For any event registration, landing pages is very effective. Audiences can register for events; this is how you can collect data for your upcoming events. You can keep in touch with your audiences.
eBooks
By using a landing page you can introduce your audience to your new blog posts, and content. Where you will discuss a topic with more details and information. For these, the audiences need to complete a form and they will be able to access or download your blog post.
Free trial
Suppose you want to give your product for one week free trial to your customers. For this, you should use a landing page. This is how you receive feedback about your product and you will have data from your customers. So that you can offer them again to buy your product.
Why do landing pages generate more traffic?
A landing page CMS generates more traffic than any other website. Many of us don't understand why they get more traffic. Obviously, there's some reason.
A single call to action
The landing page website offers only a single product. Rather than other websites offering various products, and services. When an audience visits a website he will read about the product and take steps to buy or subscribe. This is how they keep engaging audiences to their website.
Targeted audience
A landing page focuses on its targeted audiences. They find their targeted audiences and convert them to visit their website. They target their audiences through ads. Audiences visit their websites by clicking ads.
Less possibility of distraction
A landing page website doesn't give any chances to its audiences to distract their mind. It uses eye catchy headlines, informative content, and images that force its audiences to stay on its website.
Key things to consider before building a landing page website
There are a few things you need to keep in mind before you build a landing page website.
Know your goal
Have you ever thought about why people will visit your website? Or ask yourself why you will visit any website. Definitely, you are searching for something or you want to buy anything. So before you build a website know your goals.
How you will generate traffic?
The next step is traffic generation. You need to know how you will generate traffic to your website. You want to generate traffic through ads or an organic way.
Know your competitor
Before you build a landing page website you need to know what your competitors doing. Analyze which services they are providing, and what are they doing. How they are getting more engagement. Their content, and image quality. For deep analysis, become one of their customers. So that you will know about their services, products, and offers.
Select trending topic
Selecting a trending topic is one of the most important key things. Audiences love to stay updated with new trends. That's why your landing page website should have a trending topic that will attract your audiences.
Elements of a landing page website
Provide only necessary information
On a landing page website, provide only necessary information. Which is related to your topic. Suppose your website is about software. You will add information only about your software. Not any other topic.
High-quality content
Make high-quality content for your landing page website. Quality full content stuck the visitors to stay a long time on the website. The more long-time visitor stays on your website more engagement you will get.
Eye-catchy title
Everything starts with a title or headline. An eye-catchy title grabs the attention of a visitor. It pushes a visitor to read more of your content. A headline should not be more than 20 words. While reading the title the visitor should be aware of what you are trying to say.
Offer
Let your visitors know about your offers. Your landing page should put together what you are offering. As soon as a visitor visits your website he/she should know about your offers. Make sure your offer should be alluring enough to what visitors desire.
Quick scanning
One of the most important elements is scanning. Whenever we read any blog or article we try to cover the topic at a glance. Same way when a visitor visits your website he\she tries to cover the topic within 8 to 10 seconds. 
You have only 10 seconds to capture the attention of your customer. Make sure your content has an eye-catchy headline, subheadings, and bulleted points. Add color to your headings for a better look.
Pictures
Your landing page website should contain an eye-catchy image. An eye-catchy image grabs the attention of an audience.
Assurance
People love assurance. Assure your audiences that they will not be disappointed by subscribing. You need to gain their trust.
Use of video
Make use of video if necessary. Don't make the video too long.
Loading time
Make your website fast as a bullet. If your landing page loading time is more than 5 seconds you may lose your audience. Because when people browse something they don't have any patience.
Best CMS landing page builder 2022
A content management system (CSM) allows you to build your own website within a very short time without any technological knowledge. CMS system allows you to build your own landing page website without any coding languages. You can build your own website without any hassle. Which saves your time.
The best CMS platform is OXO. A multipurpose CMS landing page builder.
OXO Multipurpose Landing Page CMS PHP Scripts. It comes with a different home page variant with necessary inner pages. It will help you to create your landing page easily without hassle or thinking much about design. It also has a 07 payment gateway, and will more than 150 currency support. You can showcase the app to submit it to the google play store or the apple app store.
OXO CMS page example.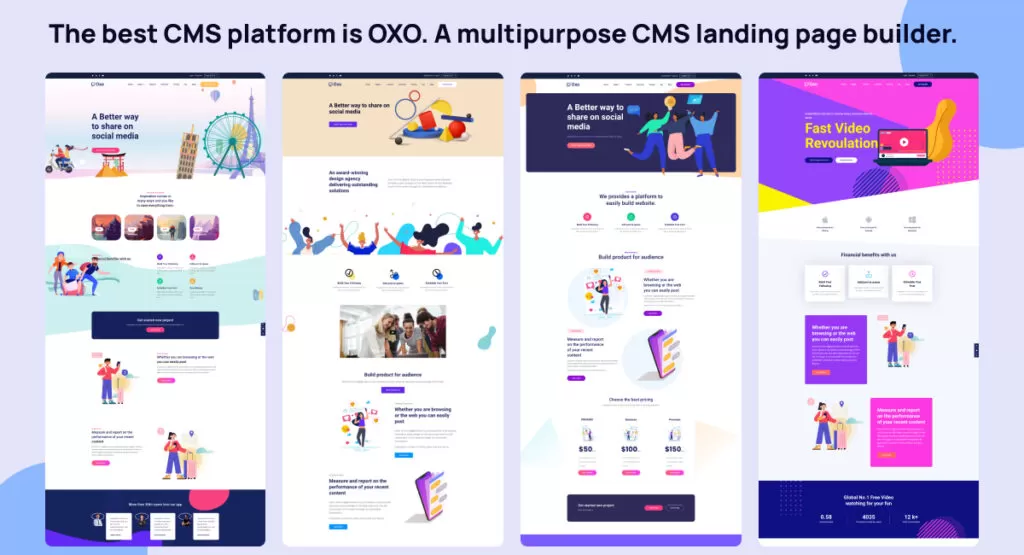 Server requirement:
Backend Framework: Built on Laravel 8x
Frontend Framework: Built on Bootstrap 4x
Requires PHP >7.4
Supports MySQL, Mysqli.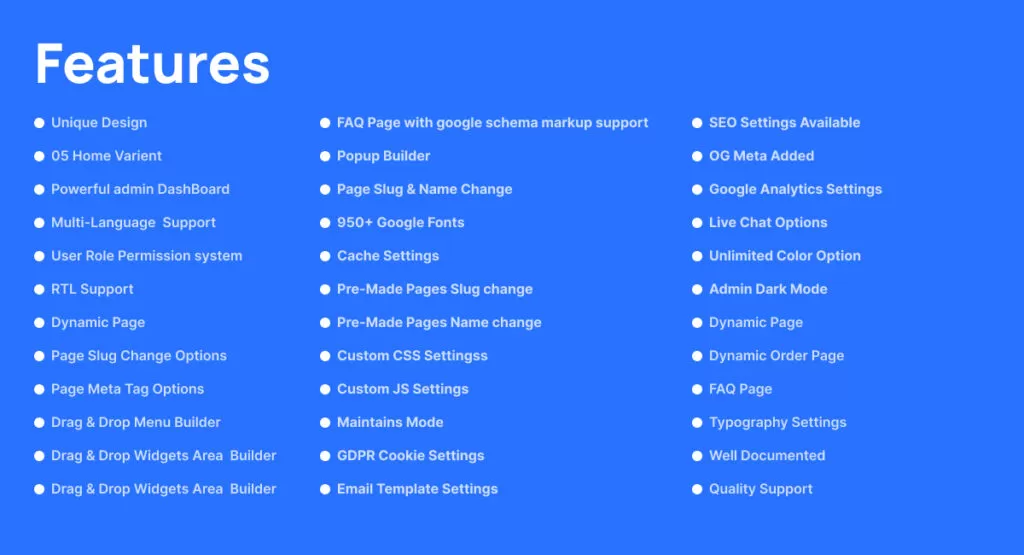 Features:
Unique Design
05 Home Variant
Powerful Admin Dashboard
User Role Permission System (Super Admin Can Assign Role or Can Add New Admin)
RTL Support
Dynamic Page
Page Slug Change Options
Page Meta Tag Options
Drag & Drop Menu Builder
Drag & Drop Form Builder
Drag & Drop Widgets Area Builder
FAQ Page with google schema markup support
Page Slug & Name Change
950+ Google Fonts
Cache Settings
Pre-Made Pages Slug change
Pre-Made Pages Name change
Custom CSS Settings
Custom JS Settings
Maintains Mode
GDPR Cookie Settings
Email Template Settings
OG Meta Added
Google Analytics Settings
Live Chat Options
Unlimited Color Option
Admin Dark Mode
Dynamic Order Page
FAQ Page
Typography Settings
Well Documented
Quality Support
Lifetime Update
Industries
Photo editing website
Business growth
App landing page
Software
Agency landing page
Lead generation
Event Registration
Digital product selling
Tech landing pages
Community landing page
EdTech landing page
Corporate landing page
Why OXO for CMS landing page?
There's a question raised in your mind why use oxo rather than other CMS?
There are several reasons for using OXO to build CMS landing pages.
Easy to use
No technical knowledge or coding required
Drag and drop interfaces
SEO friendly
Using building templates is easy
Package selling mode
How to build your own multipurpose CMS landing page website using OXO
Here I am going to share with you how you can build your own landing page CMS easily with OXO.
Follow the steps:
Installing the script
Read here how to install the script.
Select the homepage design
Select your homepage design.
Edit content from the admin panel.
Read how to edit content from the admin panel.
Design your landing page
Now design your landing page according to your chosen theme.
Connect your collection fields
Connect your page elements with the CMS collections that you made previously. Your page will find the content you generated in your CMS.
Publish your site
Finally, publish your landing page website.
Wrapping UP
Building a CMS landing page website requires your time, effort, money, and knowledge. Don't let waste your efforts. Your main concern is to divert visitors into the lead.
Use the best use of the CMS landing page.
Happy reading.