What is a website builder?
A website builder is a solution to building a website without any coding. You can create a website without the help of any developer or programmer.
Whether you are a small business owner or you have a website you don't need to hire any professional developer or designer to build a website if you use any website builder.
A website builder makes it easy for users to build websites easily.
How does a website builder work?
There are mainly two types of website builders. Offline and online.
Offline: Offline website builder works as a software solution that you download and install on your desktop. Then you build your website and save documents to your desktop. When your website is ready you need to upload all your documents to a web host.
One good side is you can work on your website even if you are offline. But when you upload files or documents to the web host some technical skills or knowledge are required. You may also need to buy web hosting.
Online: Online website builders are browser-based, unlike offline website builders. You don't need to install any software. All you need is a web browser like (Chrome, or Firefox).
The main benefit of this online website builder is you can operate your website from any device and from anywhere. Also, you don't need to buy web hosting.
Online website builders are well designed so that any beginner or expert can use and build a website with drag and drop.
The way an online website builder works –
Choose a template that best fits your website
Use a drag-and-drop editor to build your website by editing the template, creating new pages, and adding content.
Add headings, texts, images, videos, social sharing buttons, and many other modules.
Finally, publish your website.
Benefits of using a website builder for small business
Back in the old days building a website required coding, developing, and designing. Those days are gone now. Now website builders make it easy.
Website builders are a timesaver for your business. A complete package for your website solution.
Here I have figured out the benefits of using a website builder. Hope this will help you.
Ready to use templates
A website builder comes with tons of ready-to-use templates. You just need to choose your template and build your website without any programming any coding.
For startups and small businesses, a website builder is the best choice. One of the causes is they don't need to hire any professional programmer for that. Build a brand new professional website.
Time-saving
A website builder saves time. It allows you to build your website within a few minutes.
Cost-effective
For a small business website hiring a professional developer is costly if you don't have enough investment. For this purpose, a website builder platform is a cost-effective and suitable choice.
Also, there are many free website builder platforms available. But they have limited features. For adding more functions and features you need to purchase a premium one.
Easily develop
As told earlier a website builder is easy to develop. The interface is easy to use and understand. The features and functions are easy to figure out.
No maintenance trouble
When your business is expanding you also need to extend your website by including more pages, upgrading content, adding products, etc. A website builder platform has all the tools to add more functions according to your requirement.
Also, protect your site from any technical and malware attacks. You have total control over your website.
Social media integrations
Besides a website a strong social media appearance is important. More or less website builder comes with social media integration.
Combining your website with social media not only validates your website but also enlarges your social media appearance.
Stay connected with your social media networks. Your potential customers will know more about your business.
Ecommerce integrations
If you are an e-commerce business owner you can integrate your e-commerce store with a website builder. By following some steps you can create your online store, and upload products.
The function of the e-commerce store is integrated directly with the dashboard. Which allows you to add new products, update stock, view sales reports, order tracking, etc. Also, have a simple checkout and payment process. Your customer will have a great shopping experience.
Add advance features
You can add advanced features to your website like –
Google map location
E-mail integration
Google forms integration
Guidelines for choosing the best business website builder
As many website builder platforms are available, how would you know which is best?
Here's a guideline for choosing a website builder for your online store.
Pricing
When you are starting a business it's a must to keep in mind which website builder is affordable. In starting stage you need to keep costs as low as possible.
Ease of use
The structure of the best business website builder should be easy and clear. You can easily operate your website and make some changes if necessary.
Plugins and modules
It's not possible to connect any third-party plug-in or any site. But still, there is some chance. You can add online chat support, customer registration, payment systems, and other solutions. Generally, options are limited.
Load Speed
Sometimes the websites built using a website builder takes a long time to load. This affects search results and visitors leave the website without surfing.
Security
Security is one of the primary concerns of a website. When choosing a website builder choose a platform that is secured enough for your website.
Customer support
You may have a problem when building a website with a website builder platform. You can contact customer support. Pick a website builder platform that provides 24/7 customer support.
Device compatibility
Of course, device compatibility is necessary. Choose a platform that supports all devices. So that you can operate your website from anywhere by using any device.
SEO friendly
An SEO-friendly website builder helps to rank your website on search engines. Almost all website builders are SEO-friendly.
Still, you don't know if the platform come up with proper SEO tools.
Free website builder
If you choose a free website builder then there will be a limit on functions and storage. For more functions and storage you had to use the premium one.
Web design
Depending on the user's screen size the adjustable layout enables the site to shift some blocks that don't contain essential data down the page. Properly enlarge components so that users can easily see and interact with them.
Currently, 50% of all web traffic comes from mobile users.
Customization
A website builder must have a template customization option. There's a template where you can place your company logo and name in a beautiful font. You can move elements all over the screen and change the color and font in the menu.
5+ best website builders for small businesses
Nexelit – best for small business
Our top choice of the best website builder for small businesses is Nexelit.
If you are looking for a website builder for small businesses look no further than Nexelit. A multipurpose website CMS and business CMS.
Nexelit allows you to build any type of website. Whether an e-commerce website, agency website, donation site, or digital product selling site.
This CMS is designed with many home page variants which are suitable for building any website. All in one solution.
Nexelit is for a lifetime purchase. Price $39.
Expand your business from a small to a large one. Nexelit is the best website builder for startup businesses.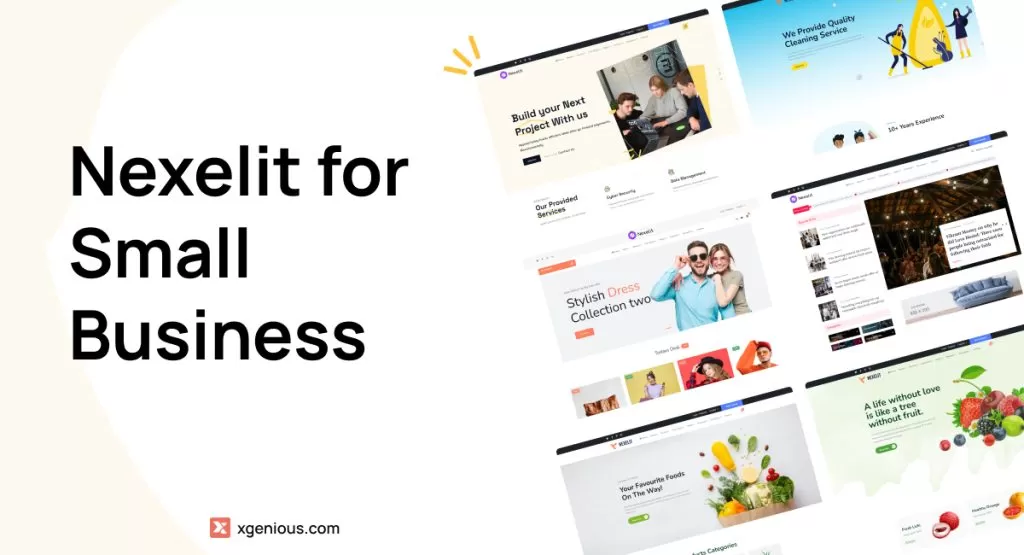 What's great about Nexelit
menu builder – It has a drag and drops menu item to short it. Also had the option to add a mega menu and select mega menu items.
page builder – No code is required for drag and drop page builder. You can create your page. And you have complete control over the script site and pages.
Form Builder – No code Form Builder. It has text, number, email, select, checkbox, text-area, file, etc fields. You can easily customize any form of this script. Also, you can set is this field is required or not.
Widget builder – This PHP script comes with a widget builder with 09 pre-built widgets. With your required widget you can build a footer widget area. If you want you can use raw HTML.
Color settings – From the admin panel, you can choose your website color.
Multilanguage support – This script supports multilanguage. You can use any language you want.
Custom domain name – You can choose a custom domain name that identifies your brand or company name.
Device friendly – This website developer for small businesses is compatible with devices ( desktop, laptop, mobile ). Also well-suited with major browsers.
Theme customization – It has a theme customization option. You can customize the theme and design according to your need.
Customer support – Nexelit provides 24/7 customer support.
RTL supported – Fully RTL supported script. Admin can decide which language and direction can use for this website. By generating any language in the system, it will ask you to set a default language direction for it.
User profile – From the user panel users can change their data and password. They can set up permanently their shipping address. Also, they can see their order history from the dashboard.
Storage – Nexelit has a great deal enough storage of images, blog posts, documents, audio and video files, and other data.
Tax module – An entire tax system is added to this CMS system. You can create tax based on your country and state with a percentage or fixed amount.
SEO optimization – This website builder has advanced SEO optimization. You can set your metadata, description, and image. Besides you can add each product description with SEO optimization.
Generate sitemap – Sitemap is necessary to increase your SEO score. From the admin panel, you can generate a sitemap easily.
Email Settings – It has email settings option. You can generate email settings and email templates. Also, you will get details of the customers who will place orders on your website. As well as customers will also get emails with all the information about their order and payment.
Newsletter module – A newsletter is a convenient way to stay connected and keep updated with your potential visitors, and customers. You can send mail to anyone or your newsletter subscriber. The email verification option is also available.
Google/ Facebook login – Users can log in to the website through a Google or Facebook account.
Payment option – This PHP script accepts 17+ payment gateway including accepting credit card payments, Razorpay, etc.
Best website builder for
Corporate or business website
Construction website
Agency website
Interior design website
Donation website
Ecommerce store builders
Events website
Job posting website
Physical or digital product selling website
Lawyer website
Medical website
Political website
Newspaper or magazine website
Security
Cross-Site Request Forgery (CSRF) Prevention
Cross-Site Scripting (XSS) Prevention
Password Hashing
Avoiding SQL Injection
Server requirement
Backend Framework: Built on Laravel 7x PHP Composer
Frontend Framework: Built on Bootstrap 4x Requires PHP 7.4
Supports MySQL, Mysqli
Take a look at what a website looks like with Nexelit.
Wix
Wix website builder is well-known and offers different pricing plans based on need. It's easy to use. Many e-commerce businesses prefer Wix.
Wix lets you create a beautiful page from its different templates. This platform is mobile-friendly. It has a safe online transaction. Also, it has enough storage.
Wix pricing plan starts from $14 per month. Though Wix is popular still it has some cons. It has a slow loading speed. Wix's business and eCommerce analytics aren't strong. If you need more metrics you need to install and connect to google analytics.
Dizzcox – small business website creator
Dizzcox content management system enables users to build websites for businesses. It offers a variety of features that makes it best for businesses of all types including e-commerce, small business, agency business, consulting, etc.
A flexible platform to create and manage your website easily. With Dizzcox you can create a professional website in minutes without any technical knowledge and previous experience. A small business website creator.
Dizzcox has no monthly subscription offer like any other platform. Purchase one-time and lifetime use. Dizzcox is the best website builder for consulting business website builders.
Price $59.
Best for
Knowledge base website
Agency/ business website
Job posting website
Gig selling
Consulting business website
Donation website
Service-based business website
Ecommerce store builders
Check out the Dizzcox, the best website builder for startup businesses.
Features
Theme Customization: Customize themes and page layout according to your choice.
Home page variant: Dizzcox small business website builder has 09 pre-made home page variants.
SEO friendly: It has an SEO option to set metadata, description, and add product description option with SEO optimization.
Drag and drop: It has a drag-and-drop menu builder, widget builder, and form builder.
Custom domain name: Customize your domain name based on your brand name.
Newsletter campaign: Newsletter campaign is to keep up to date with your customer through email. Dizzcox website builder comes with a newsletter module.
Email alert: Whenever any customer will place an order you will be notified by email.
Multilingual integrated: This website builder supports multilanguage with translation ready.
Device friendly: Dizzcox easy business website builder compatible with devices and major browsers.
Take a look at what a website looks like with Dizzcox small business website builder.
Weebly – best free eCommerce website builder for small businesses
Weebly is a free website builder for small business. If you don't need your own domain name then Weebly is for you. It s a beginner-level website builder for a personal portfolio, personal blog site, or a simple shopping site.
You can choose your flexible theme and page layout.
As it's the best free website builder for small business it has lack many features. Like
no heading option. The heading is important for SEO. Unfortunately, the heading is not available.
Have no blogging capability to earn money.
Weebly doesn't offer any editing option for how your website will look on mobile.
Zixer – easy business website builder
Zixer is an easy website builder for a professional website builder. A user-friendly drag-and-drop builder uses artificial design intelligence to build small business website.
Zixer is a better way to present your business, corporate website, construction website, interior, agency website, etc. It offers everything you need to build an effective online presence.
What's best about Zixer
Unique Design
03 Home Variant
Powerful Admin Dashboard
Multi-language support
Typography Settings
User Role Permission System (Super Admin Can Assign Role or Can Add New Admin)
Home Variant
navbar Settings
Home Page Settings

Header Area
Key Features
Build Dream Area
Service Area
Counterup Area
Recent Work Area
Testimonial Area
Latest News Area
Latest News
Section Manage

Top Bar Settings
Abandoned shopping cart recovery
About Page
Service Page
Team Page
Contact Page
Quote Page
Order Page
Services

All Service
Service Category
Add New Service

Works

All Works
Works Category
Add New Works

Price Plan
Testimonial
Faq
Team Members
Counterup
Brand Logos
Blog Page
Footer Area

General Settings
About Widget
Useful Links Widget
Recent Posts Widget
Important Links Widget

Blog

All Blogs
Blog Category
New Post

Menu Manage
Pages
General Settings

Site Identity
Typography Settings
Basic Settings
SEO Settings
Third-Party Scripts Settings ( Like Google Analytics, Google Captcha API, Google Map API, Disqus, Twak.to )
Email Template
Custom CSS
Cache Settings
Backup Settings

Language Settings
Fully Responsive
Well Documented
Easy to customize
Friendly Support
Advanced marketing analytics tools
Godaddy
Godaddy website builder is well-known. A fast and simple way to create your business website. You can create your business website easily. Godaddy is an all-in-one solution for your professional business website.
Features:
Speed
Easy to use
Marketing tools
Email campaign
Wrapping Up: Best website builder for small business
Choosing a website builder for small businesses is challenging when there are many options available.
With so many choices find the one that meets your needs. Compare the features of the website builders.
No need for any coding to build website. With the functions and features of a small business website creators bring your small business online.
Your small business is on the way to being a large one.