In this digital era, having a functional and visually appealing website is essential for marketing agencies' success.
This is where web developers come in – they are responsible for building and maintaining the website's technical infrastructure.
Marketing agencies often require the expertise of web developers to ensure that their client's websites run smoothly.
In this article, we will explore why marketing agencies need web developers and the benefits that web development can bring to a marketing campaign.
Benefits of Hiring a Web Developer for a Marketing Agency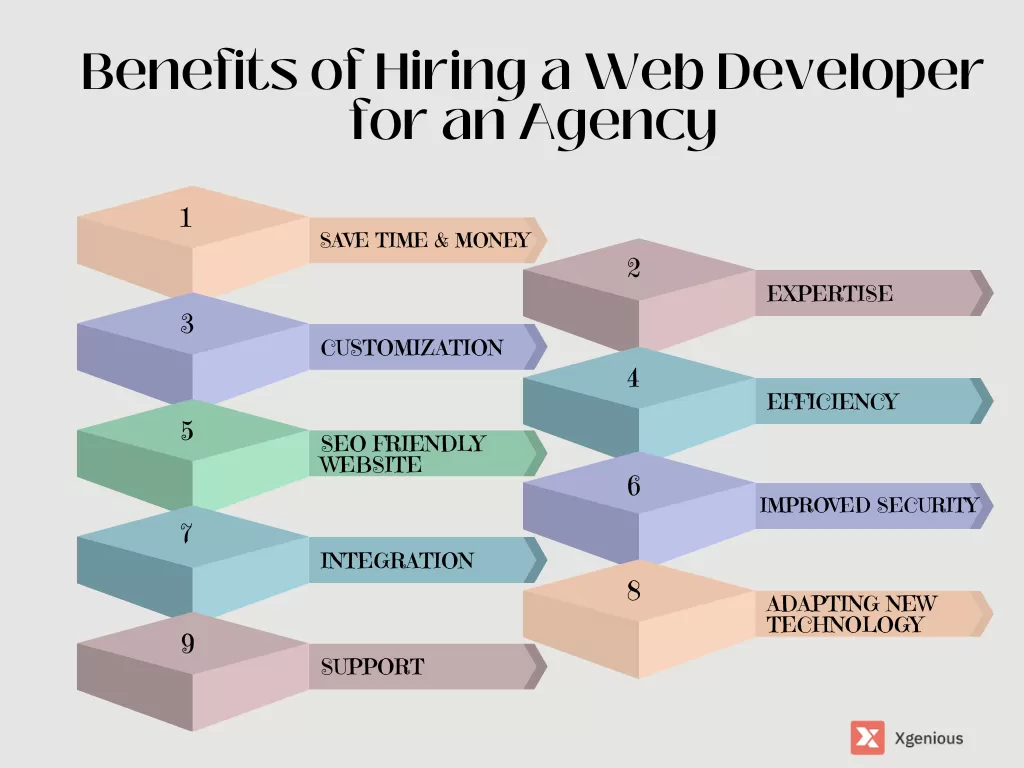 Hiring a web developer for an agency can bring a wide range of benefits.
A good web developer can help agencies create high-quality, user-friendly, and secure websites that are optimized for performance while saving time and money.
Let's talk about some of the benefits of hiring a web developer.
Save Time and Money
Hiring a web developer is more cost-effective and time-saving.
They streamline the website design and development process, using modern development tools and methodologies, such as agile development or continuous integration and deployment.
This can help reduce the time it takes to create a website, resulting in faster time-to-market and faster return on investment (ROI).
In addition, a web developer can help an agency save money by avoiding common development pitfalls, such as costly design revisions or technical issues that require significant time and resources to resolve.
By identifying potential issues early in the design and development process, a web developer can help the agency avoid costly mistakes and keep the project on track and within budget.
Expertise
Web developers have a deep understanding of various programming languages, web technologies, and software development frameworks, which enables them to create a website that is scalable, adaptable, and optimized for performance.
They are equipped with the technical knowledge and expertise needed to navigate complex technical challenges and create innovative solutions that meet the agency's specific requirements.
By staying up-to-date with the latest industry standards, web developers can help an agency create a website that is both aesthetically pleasing and functional.
Moreover, web developers can assist with maintaining and updating the website to ensure it remains compatible with the latest software updates and security patches.
This can prevent security breaches and protect the website and its users from potential threats.
Customization
One of the remarkable benefits of hiring a professional web developer is that you can customize your website according to your requirements.
A web developer can build a website that is tailored to the specific needs of the agency and its clients.
They can design the website's layout, features, and functionality to match the brand image and meet the desired business objectives.
A skilled web developer can create a unique website design that stands out from the competition and reflects the agency's brand identity.
They can develop custom graphics, images, and other visual elements that communicate the agency's message to the target audience.
In addition, web developers can develop and integrate customized functionality into the website, such as contact forms, e-commerce features, and content management systems.
This gives the agency complete control over the website's features and functionality, enabling them to provide a seamless user experience for its clients.
This can result in higher engagement, conversions, and overall business success.
Efficiency
Efficiency is a critical benefit of hiring a web developer for an agency.
A web developer can create a fast, reliable, and easy website, which can significantly improve the user experience and lead to higher engagement and conversion rates.
Optimizing the website's code can improve the website's performance and reduce the risk of crashes or downtime, providing a better user experience.
In addition, web developers can implement best practices for website design and development, such as user-centric design, intuitive navigation, and clear calls to action.
This can make the website more user-friendly and increase the likelihood of visitors taking action, such as making a purchase or submitting a contact form.
Efficiency also extends to the website's back-end systems.
A web developer can set up a content management system (CMS) that enables the agency to easily update the website's content, such as adding new products or services, without requiring technical expertise.
This can save time and resources, enabling the agency to focus on other important aspects of its business.
Build SEO Friendly Website
SEO helps to rank your website on search engines.
The developer can ensure that the website is optimized for search engines, which can increase the website's visibility and drive more traffic to the site.
A skilled web developer can implement best practices for on-page and technical SEO such as website and URL structure, internal linking sitemap, etc.
This can make it easier for search engines to crawl the website and index it's content.
They can also ensure that the website's content is high-quality, relevant, and includes the right keywords and phrases to improve its ranking on search engine results pages (SERPs).
By optimizing the website for search engines, a web developer can help an agency increase its online visibility and attract more organic traffic to the site.
Improved Security
Security is the primary concern for a business website.
A web developer can implement best practices for website security, such as securing the website against potential threats and protecting the site and its users' sensitive data.
They can set up and configure the website's security measures, such as SSL certificates, firewalls, and security plugins, to prevent unauthorized access and protect against malware and other potential security threats.
They can also implement regular backups of the website and its data to ensure that the agency can recover quickly in the event of a security breach or other catastrophic event.
In addition, web developers can monitor the website's security and performance regularly to identify and address any vulnerabilities or issues that arise.
Integration
You may think integration is not a big part of web development but do you know this can help the agency increase revenue and streamline the purchasing process for customers?
Sometimes developers integrate third-party tools and services into clients' websites. for example:
They can integrate email marketing tools, such as Mailchimp or Constant Contact, to help the agency build its email list and send targeted email campaigns.
By integrating the website with other tools and services, a web developer can help the agency enhance its online presence and provide a better experience for its customers.
Adapting new technology
These days technologies are changing rapidly and an experienced web developer always stays up to date with the latest technology.
Nowadays people use many devices including desktops, laptops, tablets, and smartphones.
By using responsive design, the website can automatically adjust to the device's screen size, providing an optimal user experience on all devices.
That's why a progressive web application can provide an engaging and immersive user experience, without requiring the user to download or install an app.
Support
Developers usually provide ongoing website support and maintenance, ensuring that it runs smoothly and is always up-to-date.
They can also provide ongoing maintenance, such as updating software, fixing bugs, and ensuring that the website is secure and running efficiently.
A web developer can help the agency maintain a high-quality website by providing ongoing support, ensuring that it remains up-to-date, secure, and efficient.
This can help the agency provide a better user experience, driving increased engagement and long-term success.
What to Look For in a Developer
When looking for a web developer, it's important to consider their technical skills, experience, problem-solving ability, flexibility, etc.
By finding a developer who meets these criteria, agencies can ensure that they are able to create high-quality, effective, and competitive websites that meet the needs and expectations of their clients.
So let's explain all of those.
Technical Skills
When hiring a professional web developer educational qualifications and degree isn't everything.
The candidate should have a strong foundation in web development, proficiency in programming languages such as HTML, CSS, and JavaScript, and experience with popular web development frameworks such as React, Laravel, Vue, etc.
They should have a good understanding of web standards and best practices and be able to create websites that are cross-browser compatible, responsive, and accessible.
The candidates should know how to fix the technical problems of a website.
Experience
Past experience in web development can provide valuable insight into their ability to deliver high-quality work and collaborate effectively with other team members.
When evaluating a candidate's experience, consider their work history, portfolio, and references.
The candidate's portfolio should showcase their ability to create engaging, responsive, and visually appealing websites that are user-friendly and easy to navigate.
A good developer should be able to listen to the client's needs and communicate effectively to ensure that the project meets their expectations.
It's also important to consider the candidate's experience working with different types of web technologies, including content management systems, e-commerce platforms, and web application frameworks.
Look for a developer who is familiar with a wide range of tools and techniques, as this can help ensure that they are able to find the right solution for each project.
Communication Skills
The ability to communicate effectively with clients and other team members is critical for the success of any web development project.
A good developer should be able to listen carefully to the client's needs, ask questions to clarify their requirements and communicate effectively to ensure that the project meets their expectations.
This involves being able to explain technical concepts in non-technical language, and being able to translate client feedback into actionable tasks for the development team.
Moreover, communication skills are also important for collaboration with other team members.
Problem-Solving Ability
Facing problems while building a website is common.
Solving problems quickly and effectively is essential for overcoming any technical challenges that arise during the development process.
Developers must think creatively and develop innovative solutions to complex technical problems.
They should be able to identify and diagnose issues with the code or software and be able to develop and implement effective solutions.
Attention to Detail
The ability to pay close attention to even the smallest details can make a big difference in the quality and functionality of the final product.
A good developer should review code carefully, and be able to identify and fix any errors or bugs in the code.
They should be able to write clean and well-documented code, with clear and consistent naming conventions, proper indentation, and appropriate comments.
Attention to detail ensures that the final product meets the client's requirements and specifications.
Flexibility
Being flexible and adaptable to changing requirements or unexpected issues is essential for ensuring the project is completed successfully.
Developers should be able to work effectively in a dynamic and fast-paced environment and adjust their approach as needed.
They should be able to prioritize tasks effectively, manage their time efficiently, and be able to communicate effectively with other team members to ensure that the project is completed on time and within budget.
They also collect feedback from the client and be able to make changes as needed to ensure that the final product meets the client's needs and expectations.
Continuous Learning
The field of web development is constantly evolving, and a good developer should be committed to ongoing learning and development to stay up to date with the latest technologies and techniques.
They should be committed to continuous learning and be willing to invest the time required to stay current with the latest trends.
A developer who is committed to continuous learning is more likely to be able to bring new and innovative ideas to the table.
Furthermore, if he or she committed to continuous learning they more likely to be able to offer guidance and support to other team members.
This will build a culture of learning and development within the agency.
Mobile Friendly Website
In today's world, mobile devices have become an integral part of our daily lives, and it's important for a website to be mobile-friendly to ensure that it is accessible to all users.
A good developer should have the technical skills and experience required to design and develop a mobile-friendly website.
This ensures that the website is easy to navigate and use on different devices, including smartphones and tablets.
Final Thought
Being a professional web developer has many opportunities to adopt new technologies and stay ahead of the curve in the developing web development industry.
Hiring a web developer for an agency is a smart investment that can provide a wide range of benefits, from expertise and customization to efficiency and search engine optimization.
It is important for web developers to stay updated on the latest trends and technology and ensure that they are using the best tool.
Besides, learning new skills can open up a new world.