Crowdfunding is a procedure of collecting funds from a large number of people through social media and crowdfunding websites. For entrepreneurs and investors crowdfunding is a popular way to collect funds. However not all crowdfunding campaigns are successful. Some campaigns also fail. But it's important to learn from that failed campaign so that in the future no one can repeat that mistake. In this article, we will discuss five crowdfunding campaigns that failed, why they didn't achieve their goals, and what we can learn from their mistakes.
5 Crowdfunding Campaigns That Failed
Montrex Watch Project
Platform: Kickstarter
Year: 2013
Amount of funds raised: $61,504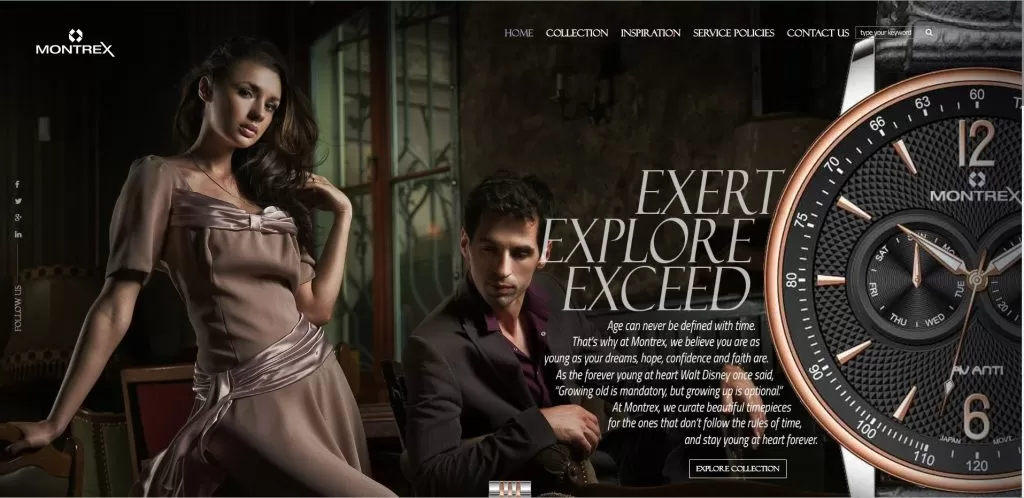 The Montrex watch project was a high-quality watch brand. The design of the Montrex brand watch included sapphire crystal glass on the front and back of the watch. Their use of sapphire crystal glass is the unique feature of this watch.
The owner of the project blamed its backers for the failure of the project and that they destroyed the reputation and brand. They also even said that not all backers are involved.
Yogventures
Platform: Kickstarter
Year: 2012
Amount of funds raised: $567,665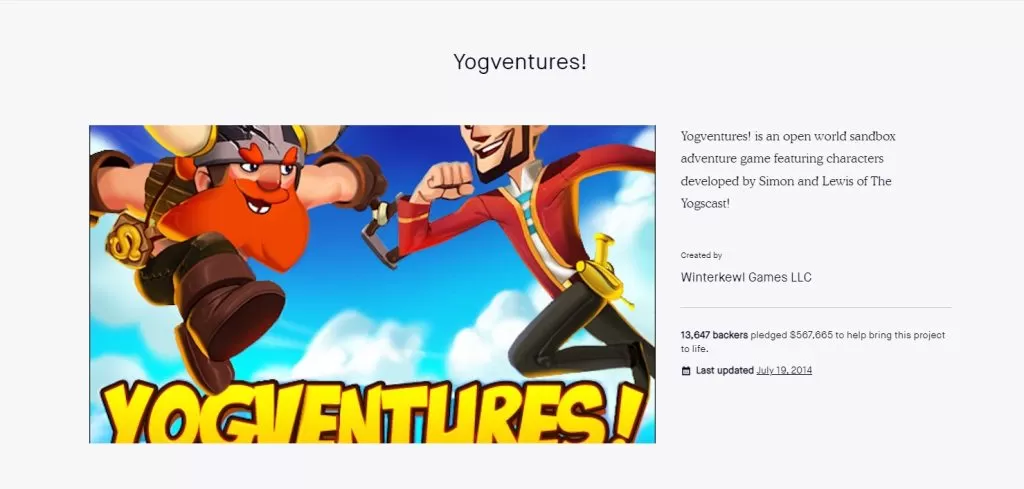 Yogventures is an open-world sandbox game designed as a multiplayer experience. This campaign was launched by two popular YouTubers. In fact, the name of the project was taken from the name of the creator's youtube channels.
The reason for their failure is that they trusted a game developer company which had never developed any games before. The founder's intentions weren't bad but they made the mistake of trusting an inexperienced development company.
FND Films
Platform: Indiegogo
Year: 2014
Amount of funds raised: $75,000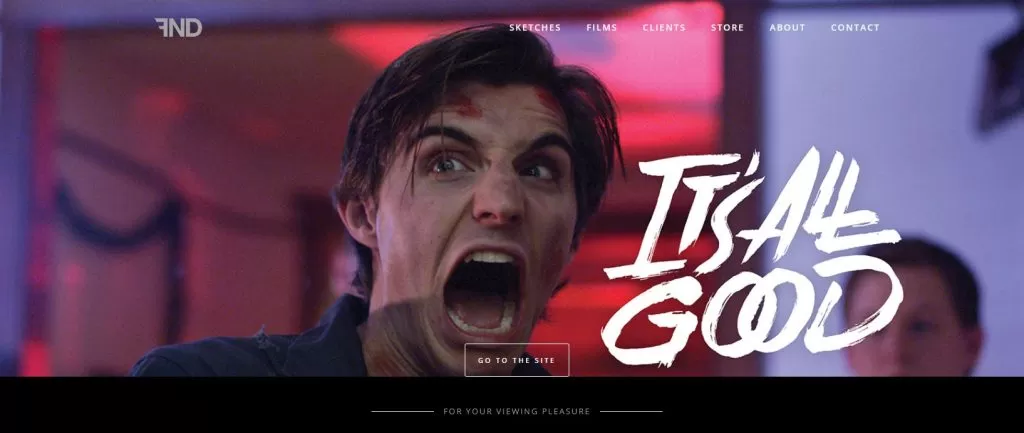 FND films is a group of three comedy people. They announced a campaign for their own movie. Their fans became very excited and they quickly raised $75,000 from invested people. But the result of this campaign is a disaster. The ending of the film is awkward.
Later the movie came to Indie filmmakers in 2017. They raised about $75000 with their crowdfunding campaign. It was thought that this was a kind of marketing campaign for the idea. Maybe to make the audience furious.
Triton Scuba Musk
Platform: Indiegogo
Year: 2016
Amount of funds raised: $800,000
Triton is the originator of a device that allows a user to breathe underwater. In the early stage, the company said that its device is able to extract breathable air from water which isn't accurate. With the evolution of the internet and the newest technology, its backers started questioning the technology behind it. Eventually, they revealed that they misguided their backers and they refunded almost $900,000 to its backers.
Triton is actually a liquid oxygen cylinder that helps swimmers breathe underwater. If one purchases an oxygen cylinder from Triton he needs to purchase it for every time use because the oxygen cylinders can't be used twice. Because of their betrayal, they lost the trust of their backers. But still, the company assured us that they will perform better in the future but it's too late for that.
iBackPack 2.0
Platform: Kickstarter
Year: 2016
Amount of funds raised: $76,694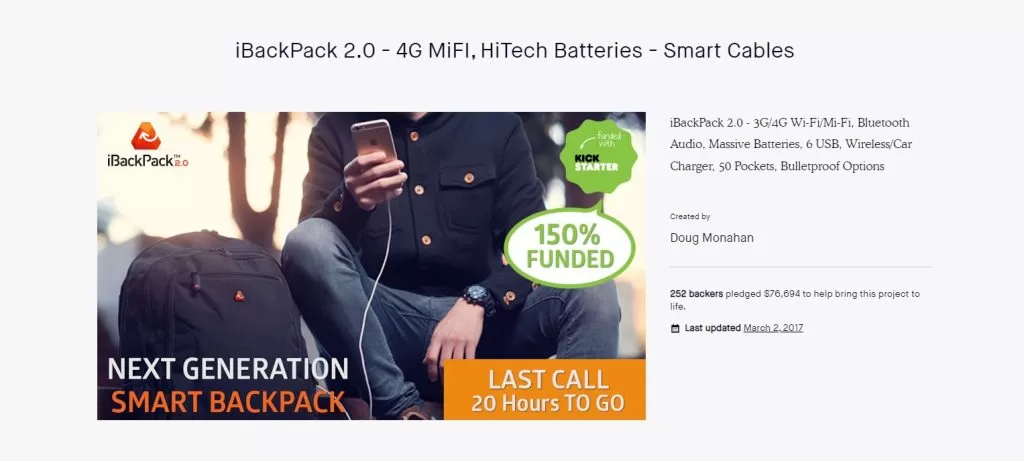 iBackPack 2.0 was a smart backpack that is stuffed with advanced features like:
Multiple USB chargers
Bluetooth audio
3G/4G WiFi
Built-in batteries
30+ pockets
Secret compartments
Bulletproof kevlar
The owner of this campaign is already a failure in his other crowdfunding campaign. In his previous campaign, he raised more than $720,000 and he used the platform Kickstarter. But the harsh reality is that he never used the fund for his campaign. Rather than he was using it for his personal expense.
Reasons Why Those Crowdfunding Campaigns Failed
Sometimes the result of a crowdfunding campaign doesn't return as expected. Because of some unknown mistakes, the crowdfunding campaign fails. After a survey, we have pointed out some reasons for the failure of a crowdfunding campaign.
Poor Planning
One main reason for a crowdfunding campaign fall is a flawed planning system. For a successful campaign, proper planning is necessary. Without planning is it stupidity to jump into the field. A crowdfunding campaign takes a lot of planning. To create effective crowdfunding campaign planning you need to do a lot of research on how similar crowdfunding campaigns failed or succeeded, how they reached their potential donors, their marketing tactics, promotional videos, ads, etc.
Unrealistic Funding Goals
Setting too high funding goals is another major reason for the failure of a crowdfunding campaign. Most of the time crowdfunding projects fail because of unsound forecasts about fund requirements. Before you launch a crowdfunding campaign do a realistic analysis of your social capital and how much you can collect.
Insufficient Communication
The communication gap is another reason that crowdfunding campaigns fail. When you launch a campaign it is obvious that you will get emails, comments, and messages about the campaign. If you don't reply no one's gonna trust your campaign. They will guess that the campaign is fake. Communicating with your audiences creates a good impression.
Lack of Promotion
The lack of promotion in a crowdfunding campaign is another reason for the failure of a campaign. It can be attributed to several factors such as insufficient market research, and poor budget for promotional activities.
Lack of Emotions and Uniqueness
The rate of a crowdfunding campaign is increasing day by day. There are thousands of crowdfunding campaigns launching every day. It's essential to bring some uniqueness to your campaign. Campaigns come to light when their concept is unique. No one is going to support a very common movement.
When you are emotional regarding your campaign your audiences will also be emotional and they will show their interest. The consequence of emotion and passion creates a bad image of the campaign.
What Can We Learn From Those Mistakes?
The message of the crowdfunding campaign should be clear and emotional.
Analyze why your campaign failed. Do you have enough supporters?
If there is any problem with the platform then try another platform.
Make use of social media.
Don't break the trust of your backers.
No communication gap with your backers.
Don't misuse the raising funds.
Conclusion
Failure is a part of the crowdfunding campaign and can be used in what works and what does not. The most successful campaign can also fail due to a lack of preparation, poor planning, etc. By understanding the mistakes one can learn how to create a better crowdfunding campaign and execute it properly.