Success stories are always inspiring; it doesn't matter whether it's a business or personal success. Through these stories, you get motivated to improve yourself and dare to dream big.
This article has brought six enormously successful crowdfunding stories that moved the entire world. So, fasten your belt and prepare to drive in the story of billion-dollar businesses that started from receiving crowdfunding!
Crowdfunding Success Stories of All Time
Crowdfunding can be raised for any purpose: a business, social service, educational funding, emergency treatment funding, etc. There are several ways to gather funding successfully.
To get this funding idea, these below success stories will help you. So, let's get into the world of crowdfunding to explore how businesses achieved success in raising funding-
1. Marillion: The Story Where Digital Crowdfunding Begins
Crowdfunding Platform: Personal (fan based)
Idea: To finance music album through crowdfunding
Funded: USD 60,000
Backers: 30,000 backers (fans)
Networth: $4.1K – $4.7K
Official Website of Marillion: https://www.marillion.com/ 
At present, crowdfunding is one of the most popular mediums to collect financial support, either for business or non-profitable services. But do you know where this idea of collecting funds online evolved? A rock music band brought this concept to life; yeah, you spelled right, a MUSIC BAND! 
Introducing you to Marillion, a British rock music band of five members with whom the phenomenon of internet crowdfunding evolved. The story began in 1997 when the brand launched its album 'This Strange Engine.' But unfortunately, it couldn't make a big hit.
The sharp decline in the mainstream and two singles from this album couldn't break into the UK Top 40. It was the biggest failure in the band's history till then. But fortunately, the band had some loyal fans who were crazy about them despite all the shortcomings of the band. 
At that time, 'Freaks,' a forum for pop culture fans, was quite popular. The fans often request Marillion for an America Tour. It would cost $60,000 to run the US tour. Unfortunately, the financial condition of the band at that time was not stable enough to afford the tour. But the strong fanbase made it possible!
A small group of fans decided creating a "US Tour Fund" for the band would be appropriate. This concept made people believe they were crazy and was sure the plan would fail. The fans' attempts made them a joke, which was quite normal because no one ever faced such a phenomenon.
The concept of crowdfunding was yet to evolve. But despite all these criticisms, the forum persisted in attempting. Within a few weeks, one-third of the money was collected by roughly 1,000 members from the mailing lists! 
The band members were then informed and were quite shocked. This soon became the talk of the town, thanks to media attention in the US papers. People also started buying tickets for the concert which added some profit to the band. Thus, within 6 months, the total fund was raised and given to the band.
This money was then used to purchase CDs with soundboard tapes of the various performances, now sold on auction websites like eBay for hundreds of pounds. Thus, the story of the world's first digital crowdfunding became successful! Surely all the praise goes to the loyal fanbase who took the step for Marillion.
However, the story doesn't end here. Marillion, admiring this concept, approached the fandom itself after three years. But this time, the strategy was different. They enlisted 30,000 royal fans from the mailing list and asked if they would like to purchase a special edition album with bonus tracks for a small pledge. They got a tremendous response from this, and thus the masterpiece, "Anoraknophobia," was launched in 2001, a massive hit!
Approaching for funding, the CDs were sold before the track was even released. This time their strategy was to include a "bonus CD" with different rarities and demos and a sizable booklet containing all the supporters' names.
This move is quite similar to the service and reward offers that modern crowdfunding offers. With this, crowdfunding has started to grow exponentially since 2001. 
Learning From Marillion's Successful Crowdfunding
Just as Marillion, on their later funding, offered special bonus CDs and encouraged their fans, including the supporters' names, you can also get public attention by providing special services, rewards, and thanksgiving to the donors for your funding. This is an excellent strategy to approach the investors and donors in the funding platforms.
2. MVMT Watches: Proving Failure Is The Pillar Of Success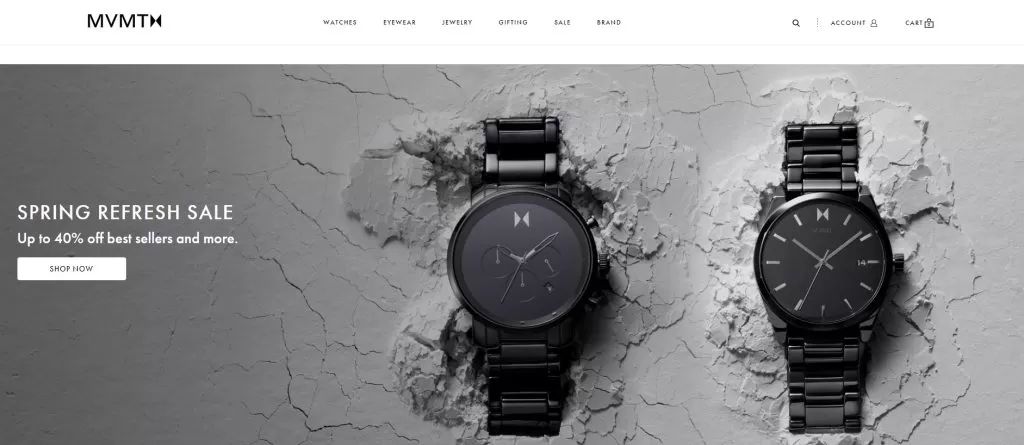 Crowdfunding Platform: Indiegogo
Founder: LaPlante & Kramer
Idea: To provide stylish watch at reasonable pricing
Funded: USD 300,000
Backers: 3850+ backers
Global Net Sales: USD 179.2M. (2020)
Website: https://www.mvmtwatches.com/
Getting rejected twice by the most renowned crowdfunding platform, Kickstarter, is a story of a watch company that made itself worth $300 million. Here is the success story of MVMT, pronounced as 'Movement,' who shone like gold fighting all adversities, proving failure is the pillar of success. 
The story begins with LaPlante & Kramer, two college roommates who dropped out, aiming for something big to come. Both friends were entrepreneurs from the very early stage of their life. Kramer created an e-commerce t-shirt business at the age of 17.
Here the biggest surprise is not the age but the earring that this 17 year, boy was making $10,000 per week! That too from a t-shirt business. Why not? The t-shirt wasn't a normal one. It was a microphone and lights featuring t-shirts that could sense noise and lit up! Kramer was also doing well, raising over $100,000 from nearly 3,000 backers on Kickstarter to finance his wallet idea. 
In 2013, on a regular day, the two friends were talking about buying watches. They noticed it was too expensive to get a stylish watch. It wasn't a cup of tea to drop $500 or $1000 on a watch for everyone to get something stylish.
So, they researched watch suppliers through Alibaba and contacted different suppliers to understand their production costs. Researching, they found the most cost-draining for retail intermediaries. To solve this, they devised the idea of selling the product directly to the customers. Thus, the company MVMT started its journey to provide stylish watches at affordable pricing.
They approached the well-known crowdfunding platform Kickstarter to finance their new startup, but unfortunately, it didn't work. But they continued with full determination. Went to Kickstarter for the second time to pitch. Failure once again! But they didn't quit. They looked for a second option when crowdfunding needed to be fixed from this platform. 
Finally, they went to another crowdfunding platform, Indiegogo, and this time it was a big success. Within 50 days, they raised $300,000 from two successive rounds from the same platform. MVMT thus received a huge response and established its brand after getting funding from Indiegogo. They were very successful in their business, and in 2018, they sold their company MVMT to Movado Group for $300 million!
Learning From MVMT's Successful Crowdfunding
The success story of MVMT, teaching us never to quit when funding. If one crowdfunding doesn't work, go for another one. But never quit!
3. Oculus VR: From a Crowdfunding Campaign To a Billion Dollar Company

Crowdfunding Platform: Kickstarter
Founder: Palmer Luckey
Idea: Bringing VR experience to passionate gamers
Funded: $2,437,429 USD
Backers: 9,522 people
Website: https://www.oculus.com/
Palmer Luckey, a 15-year-old boy, was fascinated by virtual reality, which inspired the creation of Oculus. During his spare time, he gathered an impressive collection of early VR headsets from the 1980s and 1990s from industry liquidation sales and government auctions. All these motivated him to build his own VR sets. 
Then one day, while roaming in a VR forum, Luckey got to chat with John Carmack, the famous lead coder of well-known games like Doom, Wolfenstein 3D, and Quake. Carmack, who was also interested in VR headsets, was intrigued by Luckey's duct-taped prototypes.
That was because Carmack was going to demonstrate these same prototypes a few months later At E3, one of the biggest trade shows for the video game business. As their conversation went on, the excitement surrounding Luckey and Carmack's new virtual reality project mounted in online forums, drawing much attention. After this, within weeks, Luckey dropped out of college to formally launch his VR company, OculusVR. 
Encouraged by the excitement surrounding E3, the team announced Oculus Rift on Kickstarter in August 2012, offering a unique VR experience. Their ambitious plans to revive a sector where so many have failed nonetheless impressed VR enthusiasts and game makers.
But they weren't promoting a pristine and elegant earpiece. In reality, the specifications were poor, and the design was bulky. Yet, crowdfunding was a big hit. They raised more money than its $250,000 funding target in just one day. When the Kickstarter campaign ended, Oculus had raised $2.4 million! 
And with this funding, they continued their journey and brought innovations to their product. In the initial stage, their product had many flaws. Despite this, they could sell out every single headset they could manufacture — 65,000 in total.
Yet, Oculus focused more on developing the product, increasing its market demand. It was the continuous development and updates they bought in their item for which they soon made themself worth billions of dollars. Finally, in 2014, Facebook bought Oculus for $2 Billion.
Learning From Oculus Successful Crowdfunding
Once you have successfully raised the funding, your focus should not only be on selling but also on innovation. Keep on updating your product and thus increase your brand value.
4. iFASHA Foundation: Where Human Stand For Humanity
Crowdfunding Platform: Fundorex
Founder: Priyanshu Singh, Uttar Pradesh, India
Idea: Non-profit organization collecting funds for emergency patients, education help, etc.
Backers: 8860 people
Website: https://www.ifasha.org
As human instinct always keeps the best for the last, we also kept the masterpiece of this article for the last. Bringing you the amazing and inspiring story of a crowdfunding platform raising money for humanity.
However, it is not a million or billion-dollar funding success story, but it's more than that. It is the story where funds are collected to save lives, which is worth thousands of times greater than a million or billion dollars! 
iFASHA Foundation is a non-profitable organization providing a free crowdfunding platform that helps you raise funds for students, medical emergencies, personal needs & charitable causes, etc. Priyanshu Singh, a college-going boy, founded this foundation on 23 September 2021. He is at present a student of Business Engineering in Germany.
Priyanshu Singh, from a very early age, was active in volunteering and social services. To motivate him to help the needy, he came out with this platform. Anyone needing financial help for treatment, study, or other issues can raise funding here.
One of the worth mentioning funding of the iFASHA Foundation is the donation campaign of Bhanumati Singh, a lung cancer fighter. Vijaya Pratap, her husband, approached the iFASHA Foundation and raised an amount of ₹52,514 within a concise period. Though it wasn't a big amount, it supported Bhanumati in running the expenses of her treatment. 
Collecting funding from online platforms is the toughest challenge in a country like India. Yet, iFASHA Foundation succeeded in doing so; all thanks goes to Fundorex for providing the easiest and simplest crowdfunding template. The drag-and-drop module of the Fundorex theme helped the fundraiser of iFASHA Foundation to quickly add their funding requirements.
Additionally, they can share the funding campaign directly to social media platforms like Facebook, Instagram, etc. It helps the fundraiser to collect funds as quickly as possible. Besides, the theme offered 17+ payment gateway to the foundation with which not only the people of India but from all around the world can donate money.
Learning From Popsocket Successful Crowdfunding
Choosing an easy-to-use platform is essential for raising funds – especially in countries like India, where most people are not technically advanced. That is why when purchasing any theme for building your crowdfunding platform, keep the user experience in mind. It can significantly impact the success of your funding campaign.
5. Allbirds: World's First Unbranded Sneaker Brand
Crowdfunding Platform: Kickstarter
Founder/s: Tim Brown (former football player of New Zealand) and Joseph Zwillinger (Industrial Engineering from Silicon Valley)
Idea: The ultimate goal was to introduce simple sneakers without branding logos and flashy designs, thus bringing minimalistic and comfortable footwear to the market.
Funded: USD 120,000
Backers: 970 people
Website: https://www.allbirds.com/
You often see the flashy sneakers that renowned brands like Nike and Adidas come up with. They have several customization options, yet the brand is the prior fact for these sneakers. People are crazy about these brands. But perhaps, it was not the same for Tim Brown, the former New Zealand football player. 
After he retired from football in 2012, the one thing that Brown could resist was buying sneakers. Throughout his playing career, renowned sneaker companies like Adidas and Nike supported Brown's teams.
However, Brown believed that his sneakers on and off the field were frequently overly flashy, overrun with corporate logos, and too much going on with colors. He always wanted something simpler and more comfortable. So, he came up with the idea to bring his own sneaker brand.
Comfort footwear was the ultimate target for Tim Brown. So, he created a patented wool shoe that was incredibly comfortable and non-itching. Besides, it was strong enough to withstand the wear and tear of sneakers.
He bought this prototype with the assistance of a group of New Zealand government agricultural scientists and received a $200,000 development grant from a New Zealand wool industry research group.
The outcome is super-fine wool from New Zealand's South Island, which Brown claims is the same caliber as that used to create wealthy men's outfits for brands like Tom Ford, Giorgio Armani, and Gucci.
The soles of Allbirds are made from a mix of rubber and foam. It also has castor bean oil-based environmentally friendly components. Besides, the Allbirds are knitted in Italy using exclusive technology that makes them lightweight and resilient enough for running. Most importantly, these sneakers didn't have any branding logo like other companies. 
With this prototype of Allbird, Brown launched a crowdfunding campaign on Kickstarter in March 2014. It was a voice against the branded and flashy footwear still on trend.
But the response of people shocked him. Brown's target was to raise $30,000, but to the ultimate surprise, the campaign ended after selling 1,064 sets of Allbird and collecting close to $120,000 from over 950 investors in just four days! 
This crowdfunding success immensely inspired Tim Brown to take his business much further. For that, he needed a partner, and here joins Joey Zwillinger, the second co-founder and co-CEO of Allbirds. He is an industrial engineer and a Wharton graduate. At present, they together made Allbird a sneaker company with a net worth of $0.17B!
Learning From Oculus Successful Crowdfunding
When you have a solid product, branding doesn't matter. Focus on developing your product and know the market and customer demand and thus, you can bring a successful crowdfunding campaign. 
6. Popsocket: Solving A Simple Headphone Detangling Issue to Earning Million Dollars
Crowdfunding Platform: Kickstarter
Founder/s: David Barnett, professor of philosophy at Colorado
Idea: The initial idea was to solve the earphone detangling issue; later, the invention evolved as a grip, stand, and headphone managing gadget for mobile phones.
Funded: $18,591
Backers: 520 people
Website: https://www.popsockets.com/
It all started when David Barnett, a philosophy professor in Colorado, struggled to tie his earbud cord together before he went into class. He glued two buttons on the back of his mobile phone to solve this problem. That worked great to wrap the headphone neatly though it looked awful. 
Having an iPhone in hand with buttons attached in the back made him a matter of joke in front of his family and friends. So, he spent the next few months developing his invention to get rid of these taunts.
He wanted to make a gadget that collapses for pockets and expands to function as a grip. He also aimed to use this gadget as a stand and a headset-management system. 
So, he learned 3D CAD software to design the parts and assemblies of the pop socket. After that, in China, he produced models for testing. After receiving 60 prototypes, he was set to launch a campaign for his Popsocket business. With this intention, he approached Kickstar in 2012. 
The crowdfunding campaign was a great success. This simple product got 520+ backups and raised USD 18,591 with a back-to-back campaign. This made Popsocket a renowned brand as popular as any branded headphone.
After this success in crowdfunding, the sales of Popsocket went up and up. In 2018, this company made a revenue of US$200 million. Earning millions from this simple product is a mesmerizing story in the history of crowdfunding. 
Learning From Popsocket Successful Crowdfunding
No invention is little. Even the simplest gadget can end up being a great success. All you need to do is identify the problem, bring a solution, develop your product, and then set for crowdfunding. If your product has the potential, no one can restrain you from success.
The Bottom Line
Crowdfunding is not just about business and investment. Many times, it is a platform to save lives. That is why using the right platform to raise funds is essential. Kickstarter and Indiegogo are the most attractive funding platforms.
Yet, many platforms successfully collect funding by building their own crowdfunding stage. If you are also intending the same, Fundorex can help you! It provides you a top-notch crowdfunding template using which you can design your platform in minutes.
Besides, the maintenance and withdrawal of funding are 100% secure. It further offers you multiple payment gateway options. So, to add a new success story to the crowdfunding industry, get your funding template now.