Ready to earn money within a short period of time? Then on-demand marketplace business is for you.
A service marketplace platform allows businesses to connect with service providers in a variety of industries. This platform provides a suitable way for businesses to find the services they are looking for. Also for the service providers to find new clients.
The most popular examples of on-demand services are food-ordering apps or websites, cab-ordering apps, etc.
Now from online marketplaces, people hire local services like house cleaning, painting, electrician, home shifting, and so on.
Within a very short time, these on-demand service marketplaces gained much popularity. Because they build a good relationship with their customers. Customers are demanding these services.
Because of its popularity, this industry is rising. An on-demand service marketplace creates a road between the customer and the provider.
Creating an on-demand marketplace for on-demand businesses is easy. But the difficulty is to stay remain in this market.
There are many platforms for creating a marketplace. Every platform is bringing more features, functions, and modules.
In this blog, I have deliberated about the 5 best service marketplace platforms with their features, modules, and variety of functions.
And at the end of this blog, I have included a bonus part, which is how to choose the best service marketplace software to launch an on-demand service website.
5 best service marketplace platforms for on-demand businesses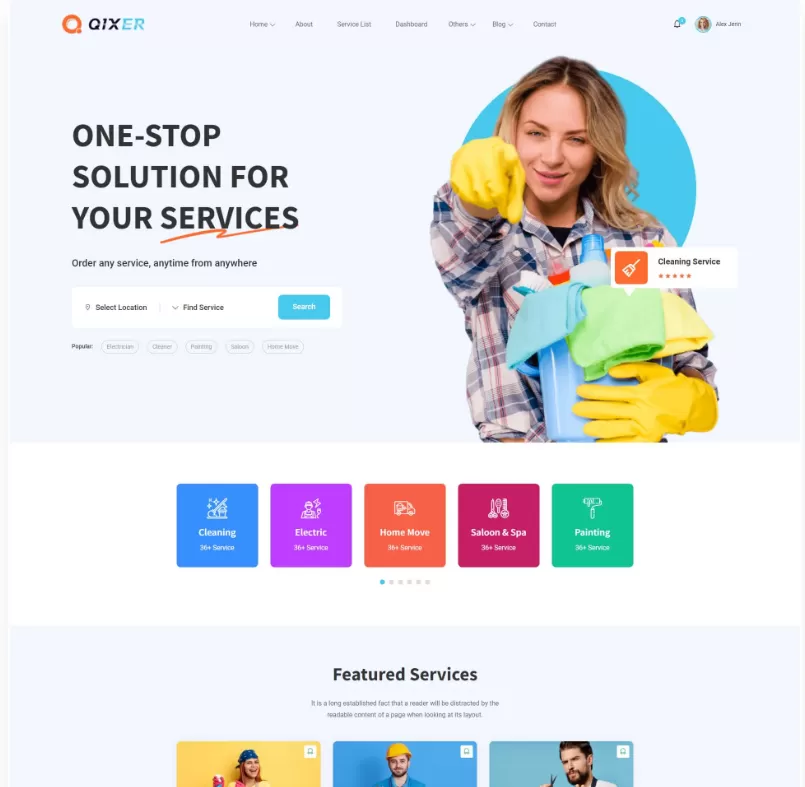 Qixer is one of the best on-demand service marketplace platforms. This platform builds on the PHP Laravel script. Its eye catchy and rich UX/UI attracts visitors. Which will help you to get more visitors.
This platform is best for any startup, mid-level, and large business.
Qixer is an all-in-one solution for your on-demand business. This CMS comes with a responsive design. It's a multi-vendor service script. By registering through this platform anyone can offer his/her service.
Qixer is for cleaning, saloon booking, home service, plumber, electrician booking, laundry service, etc. Also, it has an appointment booking system.
Its security system is integrated with Cross-Site Request Forgery (CSRF) Prevention, Cross-Site Scripting (XSS) Prevention, Password Hashing, and Avoiding SQL Injection.
Its backend framework is built on PHP Laravel Framework 8x And the frontend framework is built on Bootstrap 4x. This Script Required a minimum PHP Version of 8.0 and a Mysql Version of 5.7.
It also has two flutter mobile apps, buyer and seller apps, which will be applicable only to Qixer users.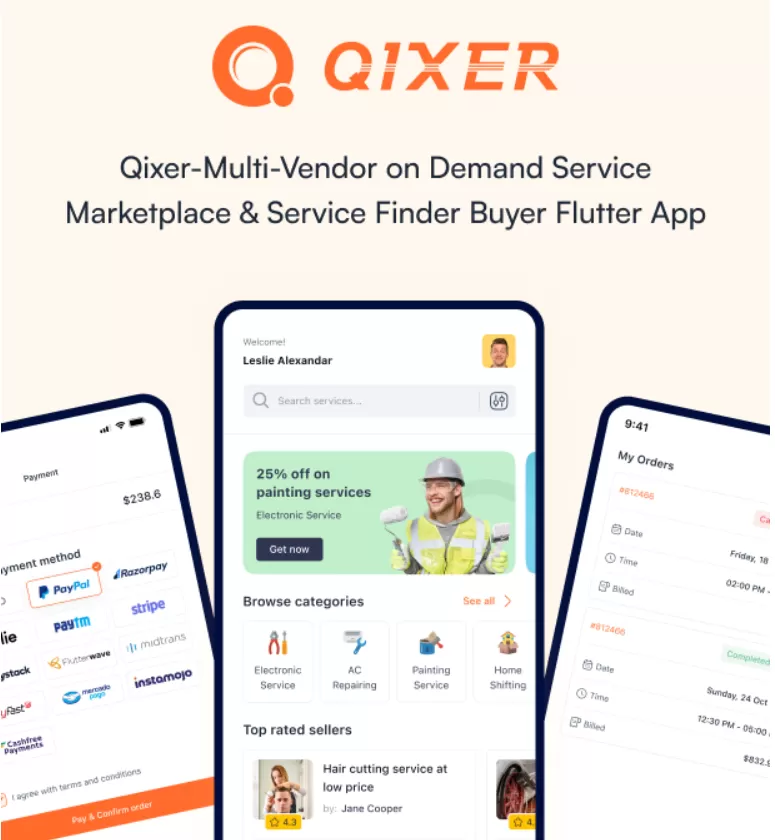 Calling on Qixer's on-demand service marketplace
House cleaning
Plumber
Electrician
Saloon at home
Carpenters
Home Shifting
Laundry
Salient features
This platform accepts 20+ payment gateway.
It has a multi-step order process. That includes location, time, service type, etc. Also, it has an appointment booking system.
It has a customer support team that is always ready to help.
Has a live chat addon, seller subscription addon, and job add-on modules.
Seller profile, Vendor panel, vendor weekly, and monthly report.
It has an invoice generator system.
Clients easily find the services that they are looking for.
Clients can add reviews, and ratings, and share on social media.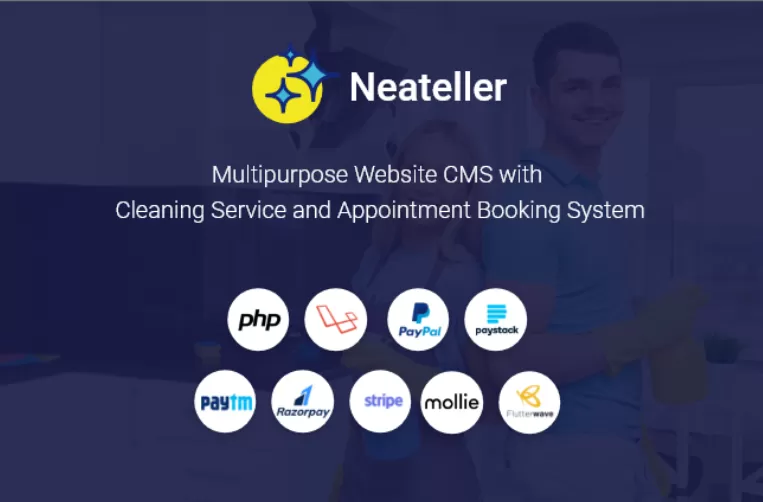 Neateller is a multiple websites CMS with a cleaning service. It helps consumers to clean their homes and book appointments. This CMS is designed in a convenient way that is easy to use.
Consumers can book appointments online. With 8 payment methods, customers can pay online. It also has a package selling module. You can sell your services through a package.
Salient features
Has a variety of 4 home page
Appointment booking module
Package selling module
Drag and drop page builder, menu builder, widget builder
Popup Builder
Order page
Search and filtering option
Powerful admin dashboard
Social media sharing
The ZielCommerce platform is a complete package. This platform is enriched with rich UX/UI design. This CMS (content management system) gives a specific representation of all services.
Its responsive UI fits with any device.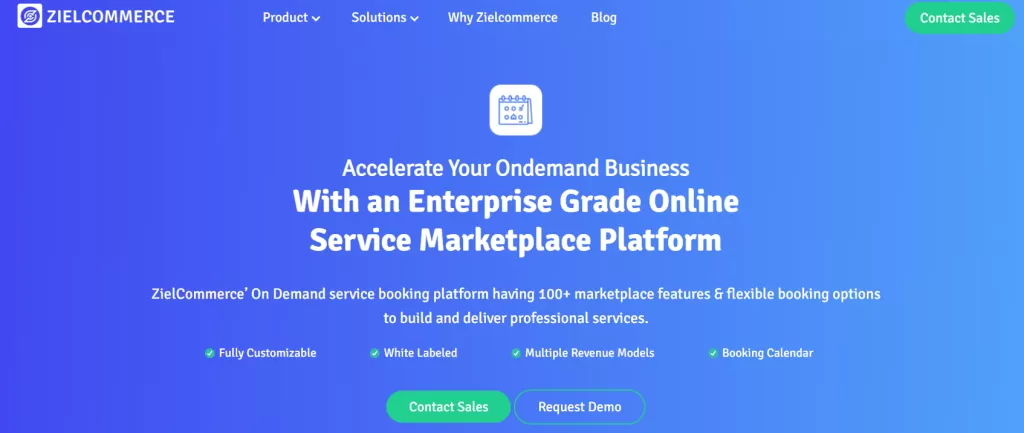 Salient features
Multiple payment gateways integrated
Social sharing
Advanced search and filtering options
Check order status
Unlimited listing of their services
4. Yelo – on-demand service marketplace platform
Yelo has a better user experience. This platform enables consumers to find and book services from local service providers. Also manage appointment bookings, payments, etc.
Salient features
Device compatibility
Multiple payments gateway integrated
Social media login
SEO optimized
5. Appicial – on-demand service marketplace
The appicial on-demand service marketplace is for startup and mid-sized businesses. Instantly launch your business with this application and start your on-demand service business.
Salient features
Multiple communication channels
Booking management system
Easy checkout process
How to choose the best on-demand service marketplace software to launch an on-demand service website?
The platform of on-demand services websites is getting bigger day by day. Several businesses are in the leading position in this sector. But the tricky point is to choose the right on-demand service software to launch an on-demand service website.
There are a few factors to consider while choosing the best service marketplace software.
UX/UI design
It's all about design. The design builds a website. Choose software that has user engaging design. A service marketplace platform must have an advanced theme management system. So that the admin can customize the theme according to his/her choice.
Mobile friendly
According to statistics, global smartphone users are over 6.259 billion. Currently, it became necessary to build a website mobile friendly. Choose software that is mobile-friendly.
Numerous payment gateway integrated
This is one of the important features of a marketplace. Consumers are ready to take the service but they are unable to pay because of a lack of a different payment gateway. For that reason choose software that supports multiple payment gateways.
Powerful admin dashboard
Admin has overall control of the website. A powerful admin dashboard has bundles of features and functions. Like user management, user role permission system, payment management, FAQ management, managing IP, etc.
Security
Security is one of the main concerns of a service marketplace platform. Before choosing software make sure your data is safe. That's the reason choose software that provides multi-level security.
Wrapping up: 5 best service marketplace platforms for on-demand businesses
On-demand marketplace service is very popular. It's a great platform for getting large profits within a short time.
Above mentioned 5 platforms will help you to build an on-demand marketplace within a short time. My personal recommendation is Qixer. It's a multi-vendor on-demand service marketplace.