Nexelit is your next-level Multipurpose Website CMS that comes with all the customizations you can desire. With more than 1200 satisfied customers Nexelit is the most hassle-free website CMS ranking as the Weekly Best Selling CMS.
Build Your Next Project with Us
Nexelit offers an easy-to-set-up CMS environment using only drag-and-drop features. Whether you are building a website for the agency, event management, interior, or crowdfunding – whatever your corporate needs might be, Nexelit's got your back.
Nexelit is built on Laravel
Using the PHP Laravel framework, we have built this Web platform with the most iconic and easy-to-customize properties. Aspects like enrollment, payment, fund collection, business roles, and assignments are as easy as surfing the web.
We have used the latest Laravel Framework version 8, ensuring the highest level of security, agility, and customizability for your smooth experience of digital exposure.
What Is Nexelit & Who Is It For?
Nexelit is the perfect website business management system CMS that can micromanage interactivities like file sharing, portraying, CTA, RSS RTS (?), etc.
Nexelit offers great customization as well as a large library of documentation. With such a well-documented Multipurpose Web CMS, you can be confident to build your website on your own. Having total control of what is shared and how your website works and looks – you can decide what to expect and how your visitors see your business. Your digital appearance is in your hand, only you must brush your coat with Nexelit before you go public.
Nexelit business cms is the perfect agency business cms. With this PHP script nexelit, you can build any sort of website.
NO CODING!
Don't know how to code? No worries. Nexelit enables you to build your business website with absolutely no codes whatsoever!
Using our structured and user-friendly interface one can build a website just by striking a few keys on the computer. Nexelit works great for small businesses and startups for entrepreneurs, leaving space for future upgradation with ease.
Drag, Drop & Build!
If you have a mouse in your hand right now, consider your website ready with Nexelit. By simply dragging and dropping you can build your Business Website full of colors, motions, and dynamic visuals able to interact.
Be it menus, forms, or the complete page – you can build almost anything using our Drag n Drop feature!
Awesome Landing Pages
More than 180 pre-built Landing Pages offer you the flexibility to choose from a plethora of tailored outlooks which will grab visitors' attention and generate leads.
Custom Fonts For Our Valued Customers
We offer custom fonts to be added to the website you choose. A wide range of Google Fonts is available for you to choose from and add accordingly for your best possible web appearance.
Add Extensions Easily
Nexelit features a unique option to easily add, remove or edit extensions to your best interest. Automate your workflow in designing, upgrading, and adding more features making your website building experience one of the fanciest.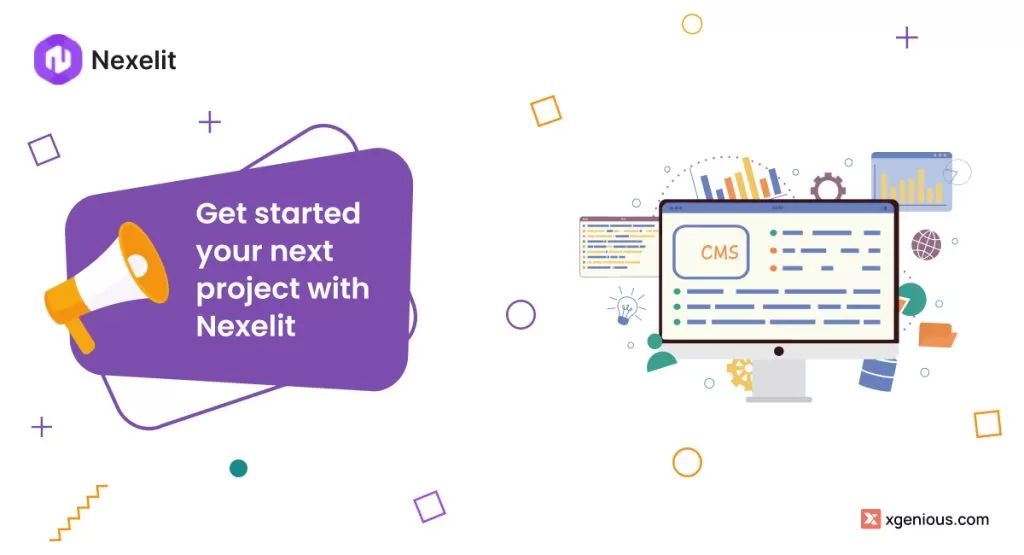 Unique Templates To Choose From
With a collection of hundreds, if not thousands of templates to choose from, you are bound to be overwhelmed by our minimalist yet interactive, dynamic web pages made with Nexelit. Here you have templates ready for almost any type of organization you might be running – from non-profit fundraising to crowdfunding, ticketing to tour planning, membership or online store, content publishing, or even personal blogs – you can do whatever you wish to do with Nexelit.
Extended Widget Builder With Customization
Nexelit multipurpose website cms business offers extended widgets for you to add to your web pages. These will dramatically enhance your site visitors' experience whether they are shopping for goods or simply booking consultancies online, hiring people for services or if you are opting to generate leads and more engagement, widgets like social media share or live info casting to your customers will boost your page's profitability.
Integrated SEO And Sitemap Generator
Nexelit's very own built-in SEO Tools get you up and running into Top order Google ranking and indexing within moments. Our users experience the easiest SEO process while building their websites because we not only offer SEO Tools but also an integrated Sitemap Generator within the Web script you avail using Nexelit.
So, even non-IT personnel can build their business profile or website using Nexelit easily, just by sitting at their home or office PC.
Facebook – Gmail Login with User Profile
A modern web experience demands a login facility through Google and Facebook, which is an inseparable part of the new web development era. Nexelit web comes with Google and Facebook Login-ready scripts, just drag and drop your features and add them to the login page.
Translate Ready platforms
Our platforms are ready to be translated according to your business locality. You can use English along with any other language depending on the region you are operating your website for or focusing on your targeted audience. Reach out to your customers, in your language!
Sell Products Letting Download & Online
Nexelit will provide the option to sell products directly online or book physically and then pick them up in person. Nexelit also comes with the option to sell by letting download digital copies of products generating revenue. Bookkeeping or Database Management is as easy as maintaining your mobile monetary service with Nexelit.
Vast Marketing Campaigns Made Easy
Our satisfied customers testify that their email and social media marketing campaigns were 100% successful upon publishing their sites with Nexelit. It is due to easy CTA buttons, landing pages, and a mixture of dynamic designing scripts for visually aesthetic websites. Visitors are led with an urge to get connected and avail offers, promotions, and databases are placed with easy-to-access portals – making lead generation a piece of cake. With proper and effective leads, your digital marketing gets an upper hand whenever you are launching new offers or promotions for your dear customers.
17+ Payment Gateways
World-famous payment gateways like Paypal, stripe, Paytm, Razorpay, Mollie, Flutterwave, Paystack, Cashfree, Instamojo, Midtrans, and Mercado Pago are available, a total of 17+ payment gateways for you to choose from.
After Sales Service
Xgenious's extensive Sales Service has been known by their clients all over the world. More than 300 happy customers testify to our after-sales service. We are ready to assist you at the reach of a call, every Sat – Thu, 10 AM to 8 PM (+6.00 GMT). Our client's testimony is a certificate of appreciation to us. We ensure the best after-sales service so you fly high with your digital outlook.
Wrapping up – Nexelit
Nexelit is now available with a community blog for its customers and collaborators. Our customers, subscribers, or bloggers can sign up for the community page and share thoughts, compare products/services and gain better insights into the menu we are offering on the table. So, even after extensive customer care service, you can always discuss with peers new thoughts and features you might want to try adding up.
You can also get important news on updates to the version of Nexelit, what has been upgraded and what resolutions are brought in. Currently, Nexelit is running version 3.3 with Laravel 8.