In 2022 it's unimaginable that a company doesn't have a website. Even if a small business website is a necessity.
Every construction company needs a website for its online presence. A website builder helps to build a company website without any trouble. For that, you need the best website builder for construction company.
People are online now. A construction business website is one of the best ways to promote a construction company.
What is a website builder for construction company?
Before the hike of website builders, website building used to require a lot of coding work, and each page was hosted by a provider who would work. These days website solutions offer a simple solution to build a business website.
A construction website builder is a combination of different features to build a functional website including pre-designed themes, templates, blog pages, media, and so on. That too without any coding.
A company website represents your business online. Helps you to find new clients and reach a wide audience.
Website solutions come up in the structure of a web-based application. These solutions come up with a variety of advanced features like –
Customized themes and templates
Hosting package
Domain name
Search engine optimization tools
Email marketing
Social media integration
24/7 customer support
Benefits of using a website builder for construction company
The best website builder for construction company is an absolute solution for your business website. It's an all-in-one solution. Some believe that website builders have limited customization options. Well, it depends on choosing the right platform. Bring your business online today.
Here I have pointed out some benefits of a website builder for construction company websites.
Easy setup
The site designer makes it simple for the whole process. All you need to do is choose the design, add your content and publish your site. It only requires a few steps and minutes.
No technical knowledge
The best website builders are designed for those who had a little bit of technical knowledge. With a drag-and-drop menu, any user can operate the website. Just upload images, and contents, with the drag of the mouse, without any coding skills.
Ready-made templates
The best website builder offers a wide range of ready-made templates and third-party designs, which you can customize according to your choice.
Low-cost
A website builder is cost-effective and a time saver rather than building a website by hiring a professional developer.
It takes a lot of time to build a website, and also you need to bear the cost of the developer. Which is costly for a startup business.
Best for starter
For a startup construction company, a website builder is the best choice. A well-designed website builder is well-documented for every type of user. Also, a website builder is affordable for startups.
Device compatibility
Most often website builder companies make the mistake that doesn't make the website mobile-friendly. Now 70% of website traffic came from mobile. The best website builder has templates to create a mobile-friendly website.
Complete control over the website
Usually, the construction company owner thinks that if they build a website with a website builder they may not have complete control over the website. It's not true. When you build a website with a website builder you have complete control over the website.
You can change the layout, color, and style of your website.
5 best website builder for construction company website
In this section, I have discussed the 5 best website builder for construction company. It depends on you which one is best for your business.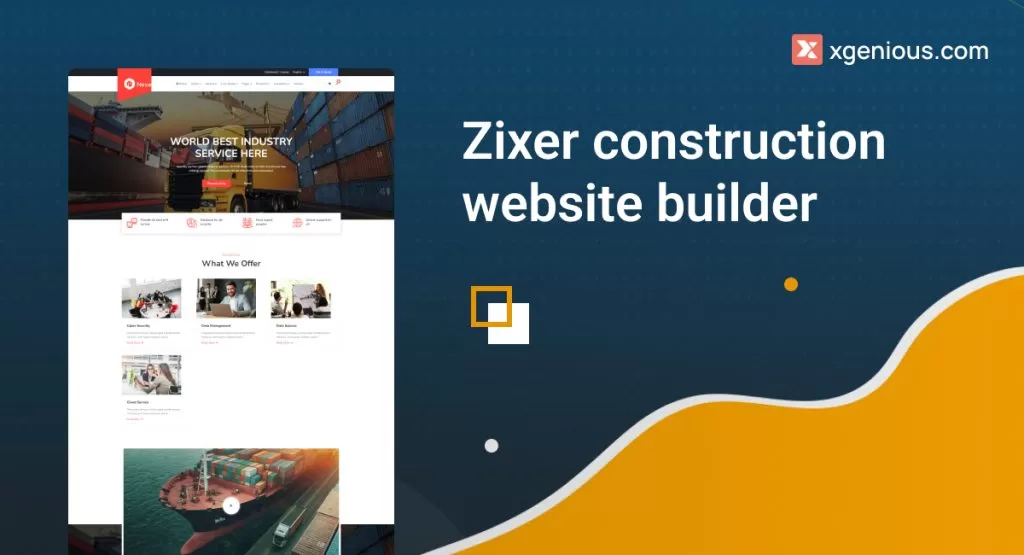 Zixer – best website builder for construction company
You have come to the right place to build your construction website. Our top-picked website builder for construction websites is Zixer.  Zixer website builder is a simple and drag-and-drop website builder. Since you are building a construction company web your requirement will vary from any other websites. 
Zixer has loads of features with dynamic integrations, order management, and more advanced features.
Template Features
Included 11 PSD Files
3 Homepage
User-Friendly designed
Based on Bootstrap 4 Grid System
Organized and layered PSD
Smooth, clean, modern design
Free Google Fonts
Easily Customizable PSD file
Photoshop Minimum Required
Well Organized, Named, and Documented
Key Features
Appointment booking
Zixer construction website builder has an appointment dashboard. Clients can fix appointments for meetings. From the appointment dashboard, you can add the services you provide with details.   
Chat features
Your customers can chat with you easily. Zixer has chat features that allow you to create a chat box on your website so that your clients can chat with you easily.
Custom domain
Custom domain names point out your business. Choose a domain name that identifies your construction business.
Professional templates
Professional templates are available in the Zixer website solution.
SSL certificate
Secure sockets layer (SSL) certificate. A website address starts with "HTTPS", which indicates your website is protected with its security features.
Social media manage
Zixer offers you to manage your social media campaigns, schedule posts, subscriptions, etc.
Email campaign
To update your clients about your offers, or any campaign, you can create an email campaign. Zixer has features for an email marketing campaign.
SEO optimization
SEO optimization helps you to rank in search engines. Zixer has options to add meta descriptions, and meta titles, to optimize your website.
Blogging
The blog category helps you add the blog to your website. Zixer proved to be successful at running blog. From the blog section, you can add a blog category, and add a new blog.
Theme customization
Customize your website theme from different types of themes. Zixer has amazing themes choice. Choose your best ones.
Customer support
Get 24/7 customer support from the Zixer website builder.
No coding
Website builders are mainly for business owners that dislike coding. Zixer required no coding.
Squarespace
If you have a good understanding of modern technology then Squarespace is for you. This system has a lot of features which is suitable for construction company websites. 
Features
For your construction page, you can make use of the tool to design your cover page.
Keep updating your social media accounts by using Squarespace. Share your business updates on your social media platforms.
Get 24/7 customer support.
Optimize your website with SEO integrations.
They have high-quality templates.
Dizzcox
Despite the fact, that you don't have any website building experience, a website built with dizzcox is the easy thing. It has a drag-and-drop editor which is easy to use. 
With 9 home page variants, dizzcox is the best website builder for construction company. Its templates are easily customizable from different page elements to fonts, colors, etc.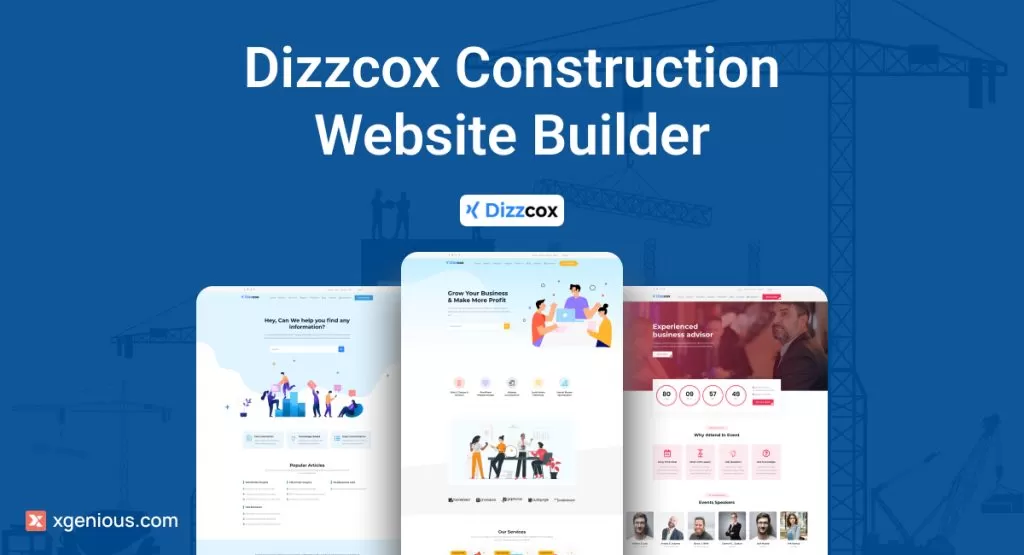 Features
With dizzcox easily drag and drop any menu item, form builder, or widget builder. It has a text area, email, and select checkbox. Easily customize any form of this script. If you don't need this field you can also set it.
From the admin panel, you can change the color of your website.
It has an advanced SEO optimization option to set your meta description, meta title, and meta image.
A completely ready translation to use in any language.
A sitemap is one the important fact in SEO score. Dizzcox has a sitemap generator to improve your SEO score.
A newsletter campaign is a beneficial way to keep in touch with your potential customer. Dizzcox comes with a newsletter module. You can send mail to your potential customers, and also have the option to verify email.
Integrate your social media accounts with your website.
Dizzcox has a bold catchy themes which are designed mobile-friendly.
Wix
Wix is another popular website builder. It's especially great for people who want control over their websites. Easy to use with drag and drop function.
Features
800 templates available
You can create an appointment booking system
Custom domain
24/7 customer support
Free website builder ( limited time )
Nexelit
Nexelit is one of the best website builder for construction company website.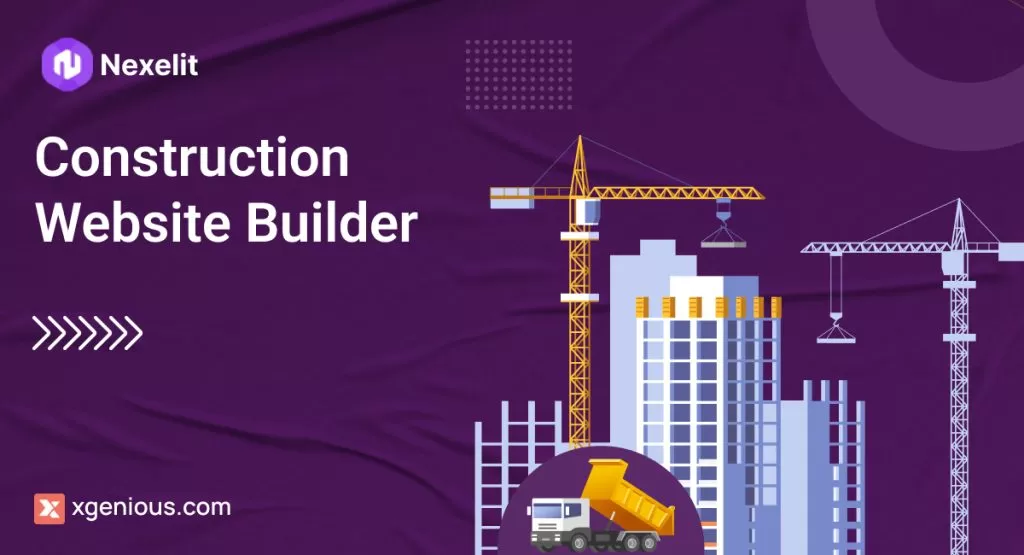 Features
It has a drag-and-drop menu builder. You can add a mega menu and also can select mega menu items.
Has 180+ pre-made builder widgets
It accepts 17+ payment gateways
Nexelit website builder has an appointment booking system. Clients can book online appointments for meetings.
SEO function is included in this website builder so that you can optimize website for ranking. 
The popup builder module is also available in this CMS ( content management system ). You can create many popups as you want. 
Choose your website font from 950+ google fonts.
It has google analytics settings.
How to choose the best website builder for construction company
Choosing a website builder for a home builder website is the toughest one. This main two-step will help you to select a website builder for your upcoming construction project.
Easy adaptation
It doesn't matter if you choose a beautiful, professional website platform if it's can't be easily used. Choose a platform that can be easy to use.
Expansive
If you are planning for a long-term business plan then choose a platform that is expansive. Keeping in mind choose a platform that you can use for your business for a long period of time.
Final touch
The best website builder for construction company is to take your company to the top level. Hope these guidelines and builders will help you to choose the best website builder