A crowdfunding platform is a plan of action to collect capital or fund for your startup business, donation, event listing, real estate, etc. Crowdfunding websites allow individuals to collect funds by using social networks.
Previously people used to take money from banks for business or any other investment. Many of us think about why we need to raise funds from people when there is a bank loan option available. Well, people donate so that you can bring ideas to life.
What is crowdfunding?
Crowdfunding is a platform for raising funds/money through the source of family, friends, and investors. This strategy makes use of the group's efforts to reach a sizeable group of people. Mainly raise funds through online and social media platforms. Makes use of their connections to increase reach and exposure. 
Crowdfunding is a business funding method that collects a small amount of money from a group of people. It's a kind of digital fundraising method. In the traditional method, people raise money from a bank loan, and investors.
Crowdfunding is mostly used by a startup businesses. 
How does a crowdfunding website work?
Crowdfunding sites set a goal and encourage to donate. When the goal is fulfilled the donators benefit from the crowdfunding campaign. Donators can earn if the company has a way-out event in the future.
No hard feelings, no financial loss. Happy donating.
Read more CMS landing page website.
Types of crowdfunding platforms
There are different types of crowdfunding platforms available. Every platform has its motive.
Donation based crowdfunding
The donation-based crowdfunding is for individual donations. They mainly raised funds for charity.
Event Listing crowdfunding website
For any event ticket selling crowdfunding platform is awesome.
Real estate crowdfunding
Real estate crowdfunding offers people to invest people in real estate projects. This type of investing is highly recommended for those who don't want to deal with mortgage brokers, agents, and contractors.
Security based crowdfunding
Security-based crowdfunding provides people to invest in companies. In these campaigns, investors get shares and stocks that the company promises to the investor.
Equity-based crowdfunding
This crowdfunding website permits contributors to become partners of your company in return for investment.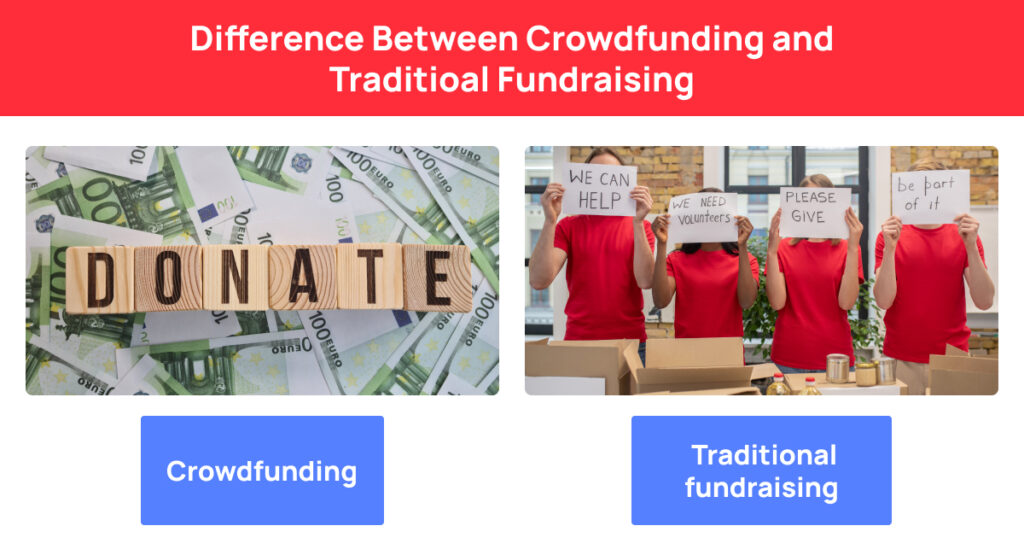 Difference between traditional fundraising and crowdfunding
In traditional fundraising, investors are approached by volunteers. For that, they had to arrange offline campaigns. On the other hand, crowdfunding raises money through online platforms.
Traditional fundraising methods used to take a lot of time. Because they need to arrange offline campaigns, convince people, etc. But the crowdfunding method is time-consuming. As they collect funds online.
Rather than crowdfunding, traditional fundraising is a long-term process. This process is mainly for any organization. Crowdfunding is a short-term process. Their main concern is to fulfill their goal.
Crowdfunding sites collect a lot of money in comparison to traditional fundraising. Their main source of money is collected online.
In crowdfunding, they can keep in touch with their investors or donators. But in traditional fundraising, it's quite impossible.
Benefits of crowdfunding
The most important benefit of a crowdfunding website is you can raise money easily. Business owners have found major success in using crowdfunding to gain support and move them to succeed in their goals. Nonprofit organizations also use crowdfunding for high-stakes giving days.
Raise money quickly
Many crowdfunding websites raise money within 30-40 days. But how? Well, crowdfunding website raises money quickly. By following some marketing strategy they reach their potential individuals and fulfill their goals.
Build a community
A crowdfunding platform builds a community. Togetherness is an integral part of fundraising. People come and support each other on their major causes. The bond creates a feeling of fulfillment and motivates them.
Raise awareness
Crowdfunding raise awareness. Through crowdfunding, awareness raises among people. They are encouraged for donating.
Read best content management system.
Key things to consider before choosing a crowdfunding platform
For business owners, crowdfunding is an excellent way to recognize their targeted audience, raise funds, spread ideas, and ultimately execute their plan.
Before choosing a crowdfunding platform there are several things you need to keep in mind. Here I have discussed below:
First set up your goal. Before choosing a platform you need to know what is your goal. What is your business strategy? Do good research before choosing a platform.
Set your crowdfunding platform structure.
List of crowdfunding platforms
Here we have researched about top 3 crowdfunding platforms. Which will help you to build your crowdfunding website according to your choice. We have chosen these platforms with their ease of use, success rate, social media call to action, and pricing.
Let's not waste any more time. Choose your favorite crowdfunding.
Fundorex – CMS crowdfunding platform
Fundorex is the biggest crowdfunding platform. Raise funds and money for your cause quickly and easily with the Fundorex CMS crowdfunding platform.
It's easy to customize and also well documented. It's also compatible with desktops, laptops, and mobile and also compatible with major browsers. A multipurpose online crowdfunding platform.
With Fundorex users can raise their donation campaign by registering on the website. Admin needs to approve the user campaign to show it on the website, user can withdraw raised amount by request to the admin for withdrawal. It has the option to set admin charge by percentage or amount, the admin can enable/disable it. The best platform of crowdfunding for business.
Key features
Unique Design
Powerful Admin Dashboard
03 Home Variant
Paypal, Paytm, Razorpay, Stripe, Paystack, Flutterwave Rave/ Mollie/ Manual Payment
Donation/ Crowdfunding
User Dashboard
Admin Role Permission System (Super Admin Can Assign Role or Can Add New Admin
User Campaign
User Withdraw
Facebook Login
Google Login
Admin Charge System
RTL Support
Event Ticket Selling Module
Jobs Posting
Dynamic Page
Page Slug Change Options
Page Meta Tag Options
Drag & Drop Menu Builder
Drag & Drop Mega Menu Builder
Drag & Drop Form Builder
Drag & Drop Widgets Area Builder
Gallery Page
FAQ Page with google schema markup support
Page Slug & Name Change
950+ Google Fonts
Cache Settings
Pre-Made Pages Slug change
Pre-Made Pages Name change
Custom JS Settings
Sitemap Generator
RSS feed Settings
Maintains Mode
GDPR Cookie Settings
404 Page Customize
SEO Settings Available
OG Meta Added
Google Analytics Settings
Live Chat Options
Unlimited Color Option
Disqus Comment System
Google Captcha V3
Subscriber Settings
Admin Dark Mode
Newsletter Mail Send
Social Share Options
Dynamic Order Page
FAQ Page
Typography Settings
Well Documented
Quality Support
Video Tutorial
Lifetime Update
Language Settings
Best for
Donation website
Job Listing
Event Listing
Server requirement
Backend Framework: Built on Laravel 8x
PHP Composer
Frontend Framework: Built on Bootstrap 4x
Requires PHP 7.4
Supports MySQL, Mysqli.
Security
Cross-Site Request Forgery (CSRF) Prevention
Cross-Site Scripting (XSS) Prevention
Password Hashing
Avoiding SQL Injection
GoFundMe
GoFundMe is an obvious option for personal fundraising needs. It is a dynamic platform that has helped individuals raise funds for everything from personal healthcare expenses to keeping local businesses stable.
Key features
0% platform fee
Flexibility to raise money for yourself, a friend, or a charity
24/7 expert support available
Patreon
Artists and other creatives looking for "patrons" will find easy-to-use crowdfunding and subscription options.
You can create monthly subscriptions
Software integrations are available with Vimeo, MailChimp, and more
Crowdfunding steps
Following some basic steps, you can build your crowdfunding website.
Select platform
The first step is to select your CMS crowdfunding platform. Fundorex has a wonderful selection of options divided into various categories.
Campaign set up
Organize your crowdfunding campaign page.
Start promoting
Start promoting your campaign. You can promote your campaign through social media platforms, email, and advertising.
Track progress
Trace your campaign progress. Set up your goal. An eye-catching way to do that is to embed a fundraising thermometer.
Thank you giving
Finally, give thanks to your donators. For that, send them a thank you email.
Final Touch
With Fundorex easily create your crowdfunding website. Create your suitable crowdfunding campaign. Donate, save people. 🙂